3View: Granite City Lumberjacks
August 24, 2021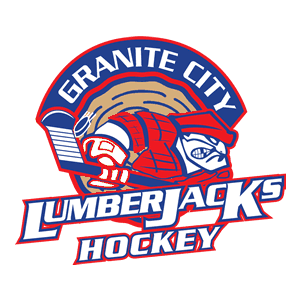 The 3View series will feature an in-depth look into all NA3HL teams in preparation for the 2021-22 season, with two teams being highlighted daily, leading all the way up until the start of the regular season. 3View goes in-depth into each NA3HL team and will include interviews with all the head coaches in the NA3HL, as they provide fans with their expectations and outlook for the 2021-22 season, including taking a look at their potential roster and their strengths as a team for the upcoming season. It will also take a look back on the 2020-21 season and how each team fared and what they accomplished. Best of all, 3View will provide the fans of the NA3HL with an inside look at their favorite team and what to expect.
Granite City Lumberjacks
2020-21 Record: 27-12-1, 55 pts. (2nd in West Division)
2021 Playoffs: Lost in Division Semi-Finals
Head Coach: Brad Willner
2021-22 Division: West
With three championship victories in their first six NA3HL seasons, the Granite City Lumberjacks set the bar sky-high for themselves. But in the four seasons since their last title, the Lumberjacks have struggled to fight through the tough West Division playoff picture.
Make no mistake, Granite City remains a perennial Fraser Cup contender. But after another first-round playoff exit in 2021, Head Coach Brad Willner is looking for his team to regain that championship pedigree this year.
"We need to play more consistently down the stretch and into the playoffs. It seems that we slipped in our play heading into playoffs in the last couple of years, which led to losing out on making it to the Fraser Cup. It is a big goal this year to play for the Fraser Cup," he said.
Willner says he is looking forward to more practice time in the new season, precious development time that should aid in Granite City's climb back to the top of the mountain.
"We are looking forward to getting back to a normal schedule of practices and games. With the number of games we needed to get in last season after the New Year, we lost out on key practice times. I think we will be able to develop as a team and as individuals more this season with more practices," he said.
More good news for Willner and Lumberjacks fans is that the team will be able to feature some talented NA3HL veterans throughout the lineup.
Watch: Granite City Lumberjacks season preview
"I think we will have great leadership this year with forwards Cody Dias, Brett Reed and Nicholas Richert and defensemen Tal Halliday, Kyle Mortenson and Matthew DeLaney. We return a total of 10 players from last year's team, which will give us a great core to work with," said Willner.
Dias, Halliday, Richert and Reed each finished in the top-10 in scoring among Lumberjacks skaters last season, and boast the kind of offensive talent needed to contend with the league's elite.
Overall, though, expect the Lumberjacks to play a stout defensive game while still maintaining that potent scoring threat.
"We want to be a hard team to play against. That means we finish all of our checks and work hard for the full 60 minutes. If we do that, we can have success. Great defense will lead to more offensive chances," said Willner.
No matter their record on the ice, the Lumberjacks maintain a pristine reputation for player development off of it. With five players earning NCAA commitments last season and another signing an NAHL tender, Granite City's ability to advance its players to the next level remains top-notch.
"The main goal of the organization is to promote players and staff to higher levels of hockey. It is definitely rewarding to have players advancing. It shows us that we are doing things right by preparing players to move up. Hard work by the players and the staff leads to the advancements," said Willner.
The Lumberjacks carry high expectations into every new season. With a veteran-led roster and a strong desire to take home a fourth title in 11 seasons, keep an eye on Granite City out in the West.
Next up: Great Falls Americans