3View: Mid Cities Jr. Stars
August 27, 2021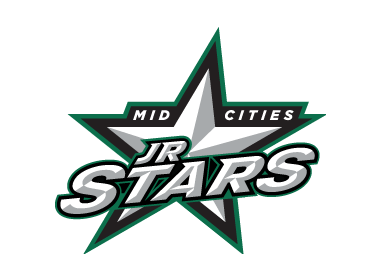 The 3View series will feature an in-depth look into all NA3HL teams in preparation for the 2021-22 season, with two teams being highlighted daily, leading all the way up until the start of the regular season. 3View goes in-depth into each NA3HL team and will include interviews with all the head coaches in the NA3HL, as they provide fans with their expectations and outlook for the 2021-22 season, including taking a look at their potential roster and their strengths as a team for the upcoming season. It will also take a look back on the 2020-21 season and how each team fared and what they accomplished. Best of all, 3View will provide the fans of the NA3HL with an inside look at their favorite team and what to expect.
Mid-Cities Jr. Stars
2020-21 Record: 5-35-0, 10 pts (7th in South Division)
2021 Playoffs: Did not qualify
Head Coach: Tom Train
2021-22 Division: South
Following three consecutive years of playoff qualification, the Mid-Cities Jr. Stars slipped down the South Division standings last year, missing the postseason for the first time in the team's NA3HL history.
Like their rivals in Louisiana — who also fell out of the postseason picture after the introduction of El Paso and Oklahoma City to the division — the Stars face an uphill climb to return to playoff prominence. But Head Coach Tom Train is confident, knowing his team's veteran nucleus and an infusion of young talent can get things back on track.
"Getting more experience for our younger guys, trying to get them more involved will help make us better for sure. It will also be important to have our core coming back and have their competitive nature help the younger guys compete at the higher level," he said.
Though their on-ice performance was not what they wanted, the Stars saw one player, Elias Ayon, earn a college commitment. Mid-Cities boasts a steady track record of developing solid hockey players, with multiple alumni in the last few years earning NCAA Division I commitments from the NAHL and beyond.
That kind of success helps to keep things in perspective for Train and his staff.
"Advancement is our main goal, our main focus. We'll sacrifice a win here and there to help a player earn a commitment or get a chance with an NAHL team. It's something our organization is proud of. If our players are getting better and learning, then we've done our job," he said.
Watch: Mid Cities Jr. Stars season preview
This year, Train's group of returning players includes Dante Petrini and Colton Sebastian at forward, Hayden Russell and Austin MacDonald on the blue line and Sean Guerin in goal, to name a few.
Those key players will look to build an exciting brand of hockey in Euless.
"We want to play a high-paced offensive style of game, that's the goal. If we play with pace, we can win games," said Train.
This is an exciting time of year in the hockey world. Camps are in full swing, players are ready to get back to the regular routine and anticipation is building in every arena for what could be "the year."
But Train and his staff are keeping that hype in check, remembering that the strength of a Junior program is in the quality of players and people it produces.
"The most important thing is the growth of our players. At the end of the day, if we can move them on to a higher level, that's a successful season. You want to win, you want to challenge for championships, but our main goal is always to develop," said Train.
Next up: Milwaukee Power