3View: Northeast Generals
August 29, 2021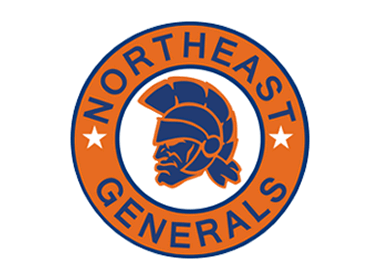 The 3View series will feature an in-depth look into all NA3HL teams in preparation for the 2021-22 season, with two teams being highlighted daily, leading all the way up until the start of the regular season. 3View goes in-depth into each NA3HL team and will include interviews with all the head coaches in the NA3HL, as they provide fans with their expectations and outlook for the 2021-22 season, including taking a look at their potential roster and their strengths as a team for the upcoming season. It will also take a look back on the 2020-21 season and how each team fared and what they accomplished. Best of all, 3View will provide the fans of the NA3HL with an inside look at their favorite team and what to expect.
Northeast Generals
2020-21 Record: 32-9-0, 64 pts (1st in East Division)
2021 Playoffs: Lost in Fraser Cup Round-Robin
Head Coach: Darryl Locke
2021-22 Division: East
Over the last three seasons, the Northeast Generals have ascended to contender status with at least 30 wins in each of those campaigns and posting a pair of impressive playoff runs.
Last year saw the Generals top the East Division in both the regular season and playoffs, earning their first trip to the Fraser Cup Championship. General Manager Bryan Erikson is proud of the evolution of his club and has his sights set on lifting the Fraser Cup before too long.
"I think the progress we have made as an organization has been tremendous. I think everyone knows that we would have lifted the Fraser Cup in 2019-20 if given the chance, as we had beaten every good team in the league already.
"This past year was a bit of a rebuilding year as we were the youngest team by a large margin at the Fraser Cup, and that youth got a little exposed. And although we don't have an old roster, we have an experienced roster.
"Darryl Locke is the best coach in the NA3HL and will have the boys buzzing, playing hard and winning games. We need to see the team in action, but we think we have a team with a legit chance to win it all and that is our goal — win the division, win the playoffs, win the Fraser Cup," he said.
The 2021-22 edition of the Generals will feature the same competitive hallmark of the successful teams of the last two years. Erikson and Locke have created a team that has championship hopes every year, and this year's squad looks to have something for everyone in Attleboro to get excited about.
"Darryl prides his teams on their competitive nature. Each night you will see a team go 1,000 miles per hour, finish every hit and play smart hockey. Fans will absolutely love this team — big and physical on the back end, lightning-quick up front and great in goal. This will be a team for fans of every type of hockey," said Erikson.
Considering the youth of last year's team, the new-look Generals will still feature a healthy portion of Fraser Cup-experienced players on the roster.
Watch: Northeast Generals season preview
"We return our captain Nick Wracker, who will be a monster on the forecheck, the penalty-kill and in the defensive zone. He will pop in some points as well but he sets the tone for how we want to play night in and night out.
"Additionally, we have Sean Gorman, who is poised to break out; Nolan Merulli, who is fast and skilled and we think will light up the scoresheet; Tyler Ramm, who had 19 points in just 14 games last year and will be a monster; and Braeden Kennedy, who is a 200-foot center that had 13 points in 15 games last year.
"On the blue line, we will have Austin Crisp, who is very smooth and put up 14 points in 22 games last year. Newcomers to watch are goalie Mason Joseph and forwards Matt Nuzzolilo, Caiden Hess and Cody Lambert, who are all 2003's that play a very fast and physical game. They are all breakout candidates up front. On the back end, we welcome some giant defensemen in Owen McNamee (6'4"), Joey McCreadie (6'3"), Tommy Lubin (6'4"), Cedric Savoie (6'1" 220lbs) and local product Eddie Mulligan (6'1")," said Erikson.
Last year's success also came off the ice for Northeast. Between college commitments, NAHL tenders and NAHL draft picks, the Generals have set a high standard for advancement that Erikson says is the main goal every year.
"It is why we do this. We had four players suit up for NAHL games last year, three players tendered and two players drafted in the NAHL. It's a great advantage having both (Generals NAHL and NA3HL) teams in the building play a similar style. On a very young team as well we had eight players commit to play NCAA hockey which we are very proud of. The fact is our players have success at the next level because of the coaching that Darryl instills in them," he said.
That success on and off the ice comes from a strong desire to build the Generals into a top development program in the northeast. This year, Erikson is expecting the organization to thrive once more.
"We look forward to being the premier destination for Junior hockey players looking to get better, have fun and reach the next level. We do a lot to support each player and are very excited to see a full season with the guys we were able to bring in," he said.
With plenty of confidence in the front office, on the coaching staff and throughout the roster, look for the Generals to make a charge for the Fraser Cup in 2021-22.
Next up: Norwich Sea Captains