3View: Oklahoma City Ice Hawks
August 30, 2021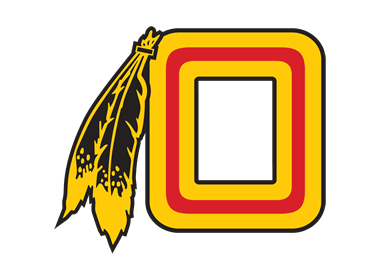 The 3View series will feature an in-depth look into all NA3HL teams in preparation for the 2021-22 season, with two teams being highlighted daily, leading all the way up until the start of the regular season. 3View goes in-depth into each NA3HL team and will include interviews with all the head coaches in the NA3HL, as they provide fans with their expectations and outlook for the 2021-22 season, including taking a look at their potential roster and their strengths as a team for the upcoming season. It will also take a look back on the 2020-21 season and how each team fared and what they accomplished. Best of all, 3View will provide the fans of the NA3HL with an inside look at their favorite team and what to expect.
Oklahoma City Ice Hawks
2020-21 Record: 29-7-4, 62 pts (2nd in South Division)
2021 Playoffs: Lost in Fraser Cup Semifinal
Head Coach: TBD
2021-22 Division: South
The Oklahoma City Ice Hawks brought a history of competitive Junior hockey into their first NA3HL season but exceeded even their own expectations and goals as they progressed to the Fraser Cup Semifinal.
Heading into year two in the league, Owner Jake Runey expects his players to build on that success and set their sights even higher for the team's sophomore season.
"Making it to the final four last season blew our expectations out of the water. We really just had a goal of being competitive in our division and focusing on building a great culture. The guys really came together and made the season special. Now that we got a taste of what it's like, the expectation is to win two more games at the Fraser Cup Championship," he said.
This summer saw the team rebrand as the Ice Hawks, and the team will feature a new face behind the bench once the season begins. But despite the changes, Runey says the team's speedy, heavy-metal playing style is still the key to success.
"We will continue the fast-paced, disciplined game that Coach Berge put together. The South Division is always physical and I don't expect that to change. Our fans can expect a much more competitive division this year and some really exciting hockey," he said.
The Ice Hawks will return several players that paced last year's high-flying squad and have the potential to recoup even more talent if players that have earned NAHL camp invitations return to the NA3HL for the 2021-22 season.
"Sam Miller, Patrick Wyers, and Alex Walker are all in Wichita Falls training camp, and Nicholas Liotino is at North Iowa. If we're able to get just one of those guys back, the dynamic of our roster changes. We're also getting back great leadership and skill in Michael Onda and Tyler Larsen. Add in a top 5 scoring threat in Noah Henslee and this roster is already a contender. With other returners in Richard Indermill and Brad Crook and the addition of Avery Pittman and Garrett Conner on the front end, as well as two more big Swedish defensemen in Jesper Olsson and Carl Bengtsson, we should be a top contending team in the NA3HL once again," said Runey.
Watch: Oklahoma City Ice Hawks season preview
The aforementioned Walker is in Wichita Falls' camp as a tendered player — Oklahoma City's first as part of the league's partnership with the NAHL. The Ice Hawks found other success in advancement as well, with three players committing to Gustavus Adolphus College in the NCAA.
Those players earning a shot at the next level mark a nice feather in Runey's cap, and he looks forward to raising the bar in the new season.
"(Advancement is) our number one goal. We want to help our younger players advance to the NAHL and our older guys into NCAA hockey. We currently have seven former players on tenders in NAHL training camps, and advanced three players into NCAA D3 hockey, two players into ACHA D1 programs, and have another currently playing pro in Sweden," he said.
As Runey and the rest of the Oklahoma City staff gear up for another charge towards the Fraser Cup, he knows that success at this level means more than just wins and trophies — even if those are the most coveted prizes.
"At the end of the day, we want to advance our guys to the next level while working towards a championship. If we can make these men better players on and off the ice, then we have accomplished the organization's goal," said Runey.
"With that said, championships make everyone happy."
Next up: Oregon Tradesmen