August 31, 2021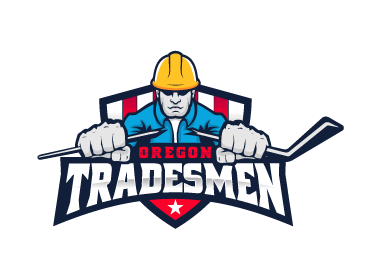 The 3View series will feature an in-depth look into all NA3HL teams in preparation for the 2021-22 season, with two teams being highlighted daily, leading all the way up until the start of the regular season. 3View goes in-depth into each NA3HL team and will include interviews with all the head coaches in the NA3HL, as they provide fans with their expectations and outlook for the 2021-22 season, including taking a look at their potential roster and their strengths as a team for the upcoming season. It will also take a look back on the 2020-21 season and how each team fared and what they accomplished. Best of all, 3View will provide the fans of the NA3HL with an inside look at their favorite team and what to expect.
Oregon Tradesmen
2020-21 Record: 19-20-1, 39 pts (4th in Central Division)
2021 Playoffs: Lost in Division Semifinal
Head Coach: Eric Fenton
2021-22 Division: Central
The Oregon Tradesmen made their NA3HL debut during the 2020-21 season, picking up 19 wins in 40 games and earning a playoff bid in a successful inaugural campaign.
Though they ran into a top Fraser Cup contender in round one of the playoffs against Rochester, the Tradesmen can pull plenty of positives from last year, and new Head Coach Eric Fenton is excited to build an even stronger sophomore season in Wisconsin.
"We have a strong leadership group returning from last year's team, which will help bring along the younger players nicely. I'll do everything I can to set them up for success, but it's their team and from what I have seen so far, they are hungry to win hockey games," he said.
Of that core group, expect last season's leading scorer Sam VanderHoeven and leading defensive scorer Branwen Pollett to set the tone, among others.
"(VanderHoeven) is coming off a strong season and we will look for him to lead us on and off the ice as one of our captains. He's 6'4" with an NHL shot and will always be a threat when on the ice. (Pollett) is our leader on the back end. He is another one of our captains who players respect and they will follow his lead. We will look to him to quarterback our power play. Our other captain will be Gunnar Schiffmann, who is one of the toughest players in the league and will not pass up a check. He can take the opponent right off their game with his 'in your face' style of play. He can also put pucks in the net. We will also look to veteran Caeden Phelps to be a threat and score goals for us with his dangerous shot," said Fenton.
Aside from a solid core group, Fenton anticipates an interesting battle for the job between the pipes this year.
"I also feel we are going to be strong in goal. The competition for the number one spot will be very interesting and will push all of them to be better. Cole Garver is a veteran returner who can be an elite goalie. Ian Hedican won a National Championship with the 18U Janesville Jr. Jets last season and wants to play at a high level. Aidan Wright and Fred Roufs will also be competing for playing time," he said.
Add that all up, and you have a team that won't back down from anybody.
"We will be a snarly team that will come at you hard every night. We will finish checks and we will go to the net hard. Our opponents will see a wave after wave mentality with each of our four lines. Just bring it with every line and let the chips fall where they may. We will earn the respect of the fans with our will to win and give the fans a reason to want to come out and support us every night," said Fenton.
The 2020-21 Tradesmen saw eight players earn college commitments, including second-leading scorer Parker Severson joining Northland College of the NCAA.
Watch: Oregon Tradesmen season preview
As Fenton takes over behind the bench, he certainly has his eye on bumping those advancement numbers even higher in 2021-22.
"(Advancement) is the main reason I took this coaching position. I'm here to develop and promote these players so they can move up to a higher Junior league or to play college hockey. When you become an organization that focuses on this and you have a coaching staff like ours that is in it for the players and not themselves, good things will happen. You will then have success stories for us as coaches to be proud of and for the fans to be proud of as well," he said.
After a solid debut in year one, the Tradesmen want it all in year two. Expectations are high, with more commitments, more wins and a shot at a title on their to-do list.
At the end of the day, though, it's just about getting better — as players and as people.
"Our goal here is to win a championship," said Fenton.
"Our focus, however, is the process in order to give this team the chance to win that championship. If we are a much better team at the end of the year and we gave it everything we had to win a championship, we can call it a success from a team standpoint. If we have players moving up a league or signing on with college programs, then we can call it a success from a development standpoint.
"I would also add that if our organization can make a positive impact on our players because of the experience they had with us, and they can use that experience to be better men, then I would call that a success too."
Next up: Peoria Mustangs