3View: Rochester Grizzlies
September 1, 2021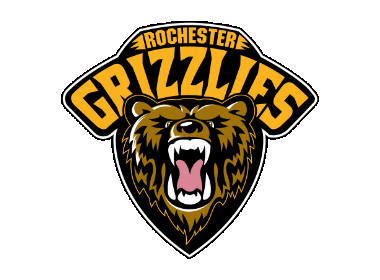 The 3View series will feature an in-depth look into all NA3HL teams in preparation for the 2021-22 season, with two teams being highlighted daily, leading all the way up until the start of the regular season. 3View goes in-depth into each NA3HL team and will include interviews with all the head coaches in the NA3HL, as they provide fans with their expectations and outlook for the 2021-22 season, including taking a look at their potential roster and their strengths as a team for the upcoming season. It will also take a look back on the 2020-21 season and how each team fared and what they accomplished. Best of all, 3View will provide the fans of the NA3HL with an inside look at their favorite team and what to expect.
Rochester Grizzlies
2020-21 Record: 34-5-1, 69 pts (1st in Central Division)
2021 Playoffs: Lost in Fraser Cup Final
Head Coach: Chris Ratzloff
2021-22 Division: Central
The 2020-21 edition of the Rochester Grizzlies picked up right where the 2019-20 team left off before the season was interrupted — a seasoned, clinical team that was committed to winning in each zone on the ice. Rochester cruised through the 2020-21 regular season with 34 wins in 40 games in 2020-21, determined to earn a long-awaited Fraser Cup bid.
Atop the division, the Grizzlies ousted some stiff competition in Oregon and Peoria to take one of the six spots in St. Louis, but wound up just a single win shy of becoming NA3HL champions as they fell to North Iowa (now Mason City) in the Final.
Still, last year's NA3HL Organization of the Year accomplished a great deal. Aside from that team honor, Rochester featured the league's Most Valuable Player and Forward of the Year Peyton Hart, Goaltender of the Year Shane Soderwall and Coach of the Year Chris Ratzloff.
Watch: Rochester Grizzlies season preview
As the team looks to once again navigate the regular season and postseason to take another shot at the Fraser Cup, Ratzloff is counting on the players that have been there before to blaze a trail for the younger players.
"After finally getting an opportunity to play in the playoffs and the Fraser Cup last year, we will rely heavily on our returning players to help create that playoff hockey atmosphere and hopefully pick up where we left off," he said.
That does not mean that this year's team will look the same as the last group — several key players, including Hart and Soderwall, are likely off to well-earned opportunities in the NCAA and NAHL, opening the door for some of last year's middle-six forwards and lower-pairing defensemen to step forward.
"We have ten returners and some talented new players and will rely on all of them to lead our team this year. With the loss of some very talented veterans to college and the NAHL, we are excited to see the returners who were role players last year step into leadership roles and shine this year," said Ratzloff.
As the Grizzlies' roster turns over, look for the same determination in all three zones to again be a hallmark of the team.
"Our fans can expect the Grizzlies to play a disciplined, competitive style every night and we look forward to playing in front of them again this year," said Ratzloff.
Last year's Grizzlies were as strong off the ice as they were on it, committing six to the NCAA and seeing three earn NAHL tenders. Ratzloff expects that success to continue in 2021-22.
"(Advancement is) the basis of our organization. With only four 20-year-olds last year, we will have eight alumni playing in college this year and a handful of players that will be starting in the NAHL this year. We are excited for the opportunities they are getting and will strive to continue on that path," he said.
As important as division titles and advancing to the Fraser Cup Championship are, Ratzloff knows that success at this level is defined by the big picture.
"If in April we look back and see a continued trend of opportunities at higher levels for our players, and see them grow as individual young men that will have bright futures in hockey and especially in life, we will call this a successful season," he said.
Next up: Sheridan Ice Hawks