September 2, 2021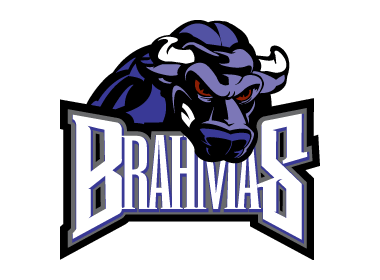 The 3View series will feature an in-depth look into all NA3HL teams in preparation for the 2021-22 season, with two teams being highlighted daily, leading all the way up until the start of the regular season. 3View goes in-depth into each NA3HL team and will include interviews with all the head coaches in the NA3HL, as they provide fans with their expectations and outlook for the 2021-22 season, including taking a look at their potential roster and their strengths as a team for the upcoming season. It will also take a look back on the 2020-21 season and how each team fared and what they accomplished. Best of all, 3View will provide the fans of the NA3HL with an inside look at their favorite team and what to expect.
Texas Brahmas
2020-21 Record: 34-5-1, 69 pts (1st in South Division)
2021 Playoffs: Lost in Fraser Cup round-robin
Head Coach: Ed Galiani
2021-22 Division: South
The NA3HL's South Division added two contenders into the mix last season, but nevertheless, the Texas Brahmas once again rose to the top to earn their sixth consecutive regular-season division title.
Playing a defense-first style of hockey while maintaining a potent attacking force, the Brahmas have clearly established themselves among the league's elite. And despite having more obstacles in the team's annual path towards Fraser Cup contention, Brahmas General Manager Ryan Anderson relishes the challenge of keeping the South Division crown in Brahmaland, offering this insight into Texas' preparations ahead of the new season:
"I really feel that the addition of Oklahoma City and El Paso significantly raised the level of competition inside of our division. The rooking campaigns that both clubs had were extremely impressive and hats off to them for such a successful first season as members of the league.
"The South Division is typically a heavier brand of hockey in both the NAHL and NA3HL. Our success over the past several seasons can be attributed to our goaltending and our commitment to defending. We have been very lucky to have also had some extremely gifted offensive players who have sacrificed personal statistics for team success.
"To win the South this year and have an opportunity to win another Fraser Cup will really depend on how quickly our team buys into how we play. We will have a great deal of roster turnover as well as a new head coach in Ed Galiani. Coach Galiani has a tremendous amount of experience and I have the utmost confidence in his ability to lead this team to another extremely successful season."
Separating this team from last year's squad will be the departure of the remaining 2019 Fraser Cup-winning players. But despite having to fill those shoes, Anderson is confident in Head Coach Ed Galiani — who was with the team during its championship run three seasons ago — and his returning players to maintain the standard of success within the organization.
"We are really excited to see the jump that our 2002 and 2003-born players from last year make this season. The players in the NA3HL were much older last season and these players were pushed to another level. We expect guys like Michael Imala, Benjamin Mondou, Micah Maldonado and Cam Colberg to lead the way up front. Our goaltending will also be very solid for us with the return of Dolan Gilbert. (Gilbert) had a fantastic rookie season and we expect him to be at the top of the goaltending statistics again this season," said Anderson.
Watch: Texas Brahmas season preview
This year's crop of Brahmas — new and returning — will be expected to excel in all areas of the ice. Texas is a team that has built its past success on roster depth and commitment to team goals, two factors on which Anderson looks to build another contender in 2021-22.
"Like our NAHL counterparts (Lone Star Brahmas), we will be a team that is known for our details, habits and structure. We expect each and every one of our players to become complete 200-foot guys that are responsible in all three zones," said Anderson.
As the wins have come for the Brahmas, so too has off-ice success. A stunning 10 players from last year's roster earned college commitments — including seven to NCAA schools — and two more earned NAHL tenders.
Anderson notes the importance of advancement to both the NA3HL and NAHL Brahmas, and looks forward to continuing the kind of success in development that the program has seen in recent years.
"Moving players to the next level is what it is all about for our program. It is our job as an organization to create an atmosphere in which our players are challenged every day, and to provide them the tools on and off the ice to succeed not only in hockey, but in life as well. We are very proud of the fact that we currently have six players that were members of our team last year in NAHL training camps. We want to see guys like Matej Palfy, Seth Manning, Blake Rothstein, Mason Mara, Alec Secord and Levi Gho make these teams out of training camp and have the opportunity to earn an NCAA Division I commitment," he said.
"The great thing about the Texas Brahmas is that even if you don't make the NAHL, your road does not end there. You have the opportunity to continue your career and earn a place in college at the Division III or ACHA levels. Tyler Blanchard, Jack Cooper, Ian Erdman, Jacob Kalandyk all played multiple seasons for us and are playing college hockey next season."
As the calendar shifts into September and the start of the season draws nearer, Anderson and the Brahmas are poised and ready for a season full of new challenges as they look to once again claim the NA3HL's top prize.
"The goal at the start of any season is to make playoffs and move players on. We have been lucky enough to do that over the past several seasons but we are also not satisfied with our past success. I am excited to see Coach Galiani mold our players into outstanding people first and great hockey players second," said Anderson.
"We obviously have aspirations to be a Fraser Cup contender, but we also know that it is very hard to win. Our returning players will be motivated by the disappointment of last season and we are looking forward to the challenge ahead."
Next up: Texas RoadRunners