Friday Finals: Bighorns, Power, Wild, Quake all win
September 11, 2021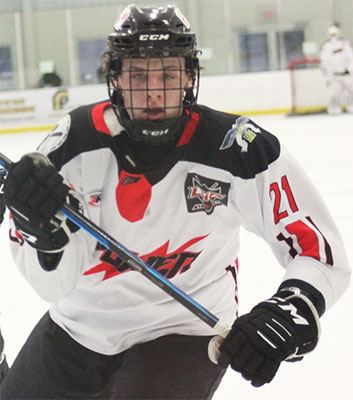 Helena 10 @ Sheridan 0 – The Bighorns exploded for 10 goals in their season-opening win at Sheridan. Tylor Greene had five assists and Adam Harvey and Samuel Feamster each had two goals and an assist in the win. The outcome was decided early as Helena scored five goals in the 1st period, which included goals from Harvey, Feamster, Liam Bland, Gage Bowerman, and Logan Matheny. The Bighorns added four more goals in the 2nd period as Harvey and Feamster each added their second goals and Tyler Bloom and Taber Gutschick also scored. Johnathan Peterson added a goal in the 3rd period. Eric Buchholz and Anthony Adleman combined for the shutout win, while Thomas Kuriscak took the loss.
St. Louis 2 @ Milwaukee 5 – Nate Stone had a goal and two assists to lead the Power to a 5-2 win over the Jr. Blues in both team's season opener. Milwaukee jumped out to a 2-0 lead with goals from Riley Planey and Stone. The Jr. Blues tied the game at 2-2 in the 2nd period thanks to back-to-back goals from Gus Immken and Duke Boccardi. The Power would regain the lead for good later in the 2nd period as Trent Van Gels would score the game-winner. Connor O'Neal and Teddy Marion added 3rd period goals. Austin Bartell made 31 saves in the win, while Brendan Cobb made 33 saves in the loss.
Badlands 1 @ Gillette 7 – Seven different players scored as the Wild rolled over the Sabres in their NA3HL debut. Gillette was propelled by four goals in the 1st period from Declan Young, Saizha Noreigian, Brock Trboyevich, and Nicholas Dellibovi. Badlands made it 4-1 early in the 2nd period with their lone goal from Zach Vockler. The Wild would go on to add goals from Easton Apodaca, Kaleb Hodny, and Will Blake to make it a 7-1 final. Jake Turek made 45 saves in the win, while Maxim Currie made 29 saves in the loss.
Great Falls 3 @ Yellowstone 5 – The Quake got 44 saves from goalie Brandon Lakusta as they beat the Americans on opening night, 5-3. Yellowstone jumped out to a 3-0 lead with goals from Cole Whitman and Keegan Ferguson in the 1st period and Brandon Kididis in the 2nd period. The Americans responded with three straight goals from Micah Serino, Henry Fusco, and Thomas Gazich to tie the game at 3-3 midway through the 3rd period. Cameron Deforest would score the game-winner for the Quake later in the 3rd period and Mason Merager added an empty-net goal. Ben Winkler and Will Simpson combined for the loss in goal for the Americans.