Friday Finals: Brahmas, Rhinos with season openers in South
October 2, 2021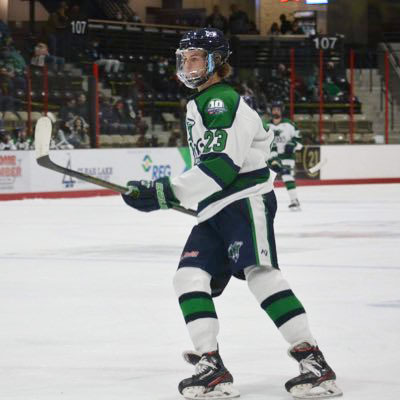 Oklahoma City 3 @ TX Brahmas 4 - A pair of early Mason Mara tallies set the tone for this contest as the Brahmas ousted the Ice Hawks 4-3 on Friday night. Gion Coray and Matt Coe also scored for Texas, who got nine saves on 12 shots from Dolan Gilbert between the pipes. Robby Rabroker, Avery Pittman and Jacob Thompson lit the lamp during Oklahoma City's comeback bid, but the Ice Hawks fell short despite their efforts and Nathan Hadley's 31 saves in net.
Mason City 2 @ Granite City 1 - Carter Newpower and Jack Campion each posted a goal and an assist to lead the Toros past the Lumberjacks by a 2-1 score in Sauk Rapids on Friday. Brock Masseth got Granite City on the board after the Toros took a 2-0 lead in the second period, but Ryan Knight shut the door on the 'Jacks as he turned aside 30 of 31 total shots in the Toros' cage. At the other end of the ice, Quentin Sigurdson stopped 17 of 19 shots for Granite City.
Long Beach 9 @ Danbury 6 - A Dylan Harbour hat-trick and a pair of goals from Christopher Barnard paced a rampant Sharks attack on Friday as they took down the Jr. Hat Tricks 9-6 on the road. Jack Fitzpatrick, Roberto Dominguez, Jake Weikel and Tyler Zembrzycki also lit the lamp for Long Beach, who were backstopped by Ryo Murakami's 18-saves. Nikita Kovalev and Daniel Khatib led Danbury's offense with two goals apiece, and were joined by Antonio Felidi and Elijah Devereaux on the scoresheet. Danbury goaltender Liam McGibbon finished with 32 saves in the loss.
El Paso 3 @ TX RoadRunners 2 (SO) - Payne Pent netted the deciding tally as the Rhinos traversed the state to knock off the RoadRunners 3-2 in a shootout. Connor Thompson and Landon Albrecht found twine for El Paso in regulation, matching goals from Texas' Tyler Love and Spencer Platt. Between the pipes, El Paso's Camden Pendleton stopped an impressive 42 of 44 shots for the win, outpacing a valiant 38-save effort from Texas' Hunter Hein.
Peoria 1 @ Rochester 7 - The defending Central Division champs showed their strength on Friday, riding two-goal efforts from Austin Meers and Connor Mahoney to a 7-1 win over the visiting Mustangs. Kade Shea, Kyle Brown and Luke Morrisette rounded out Rochester's scoring as Zach Wiese stopped 32 pucks in net to pick up the win. Ethan Chesney grabbed Peoria's lone goal in front of a combined 21 saves from Joe Ambroffi and TJ DeMeulenaere.
Alexandria 2 @ Minnesota 3 - Payton West stopped an incredibly nice 69 of 71 shots to lead the Loons to their first NA3HL team victory on Friday, knocking off the Blizzard 3-2. Blake Keller, Lucas Viskovicz and Xavier Brooks paced the offense for Minnesota, while Cole Klingbeil and Sean Kenny put Alexandria on the board. Blizzard goaltenders Bailey Rosch and Jack Coleman combined for 21 saves on the night.
St. Louis 1 @ Oregon 7 - Sam VanderHoeven tallied a hat-trick, Cole Garver stopped 39 shots and the Tradesmen trounced the Jr. Blues 7-1 on Friday night. Carter Watters, Jason Tenezaca, Mac Reed and Riley VanderHoeven joined Sam in the goal column for Oregon, while Michael Gakhutishvili posted the lone St. Louis marker. Brendan Cobb finished with 47 saves on 54 shots in the Jr. Blues' net.
Butte 2 @ Gillette 6 - A two-goal performance by Carson Kuche and a 23-save showing from Jack Orchard paced a strong night for the Wild as they topped the Cobras 6-2. Isaac Young, Zac Yurkanin, Declan Young and Kaleb Hodny each scored to help Gillette keep its undefeated start to the year going, while Luke Schleusner and Fabian Vik put Butte on the board in this one. Cobras netminders Caleb Cross and Nikolai Wallery were busy on Friday, stopping a combined 73 shots in the loss.
Yellowstone 1 @ Helena 10 - The Bighorns brought plenty of offense on Friday, knocking off the Quake 10-1 for a big home win out in the Frontier Division. Scorers for Helena included Sam Feamster (3), Tylor Greene (2), Eric Gibboney, Adam Harvey, Harlan Wojtusik, Gage Bowerman and Taber Gutschick. Eric Buchholz stopped 19 shots for the win, conceding only to Yellowstone's Gustov Ostman. Quake goaltenders Luc Haggitt and Cole Eastman stopped a total of 73 shots in the loss.
Badlands 3 @ Bozeman 2 (OT) - After successfully erasing an early two-goal deficit during regulation time, the Sabres completed the comeback in overtime as Kael Delzer found twine to give Badlands a 3-2 win over the Icedogs in Bozeman on Friday. Shane Domanick and Ian Bowman had the 'Dogs rolling through half of the game, but Badlands goals from Mason Martin in the second period and Brady Ridnour early in the third knotted things up at two goals apiece, setting the stage for Delzer's heroics in the extra frame. Sabres goaltender Maxim Currie was unstoppable in this tilt, turning aside 56 of 58 shots to carry his team to victory. Across the rink, Collin Soderholm put in a solid shift for Bozeman with 14 saves between the pipes.
Great Falls 4 @ Sheridan 2 - Two Micah Serino tallies and a 23-save effort from Will Simpson guided the Americans past the Hawks 4-2 in Sheridan on Friday. Jay Alford and Russ Rasmussen each lit the lamp as well for Great Falls, while Nathan Gilleshammer and Dakota Kott notched goals for Sheridan. Hawks' goaltender Thomas Kuriscak was busy between the pipes on Friday with 50 saves on 54 shots in his team's loss.