Saturday Scores: Another sweep helps Grizzlies stay undefeated
October 3, 2021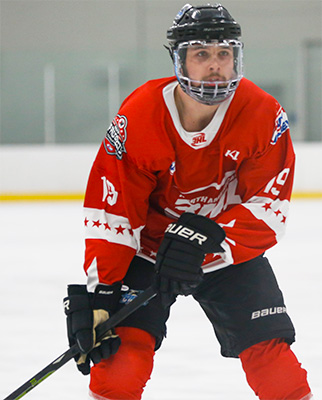 Peoria 3 @ Rochester 4 - Justin Wright scored early in the third period to tally what would become the game-winning goal in a 4-3 Grizzlies win over the Mustangs. Adam Johnson, Austin Meers and Connor Mahoney also netted for Rochester, while Tristan Trudel, Ryan Callahan and Thomas Kayner scored Peoria's goals. Kaleb Bents turned aside 22 shots for the win, as Peoria's TJ DeMelulenaere stopped 22 of 25 in the loss.
El Paso 2 @ TX RoadRunners 4 - Ty Neckar led the way for Texas with two goals on Saturday as the RoadRunners topped the Rhinos 4-2 at home. Samuel Bourdon and Jack Herron joined him in Texas' goal column, while Noah Easterson and Colin Clough lit the lamp for El Paso. Hunter Hein and Nash Wilson combined for 28 saves in the win, outmatching Alex Smedley's 29 saves for the Rhinos.
Wausau 1 @ Milwaukee 0 (SO) - Luke Anderson netted the game's lone goal as he found twine in the shootout, giving the Cyclones a 1-0 win over the Power in a breakaway contest. Zach Dosan picked up a 4-0 saves shutout in the win, while Spencer sported 29 saves on 29 shots during regulation time before the tough loss.
Oklahoma City 1 @ TX Brahmas 6 - Led by Michael Kramer's two goals and Dolan Gilbert's 24 saves, the Brahmas breezed past the Ice Hawks 6-1 on Saturday. Mason Mara, Benjamin Mondou, Gion Coray and Aleksandr Gamzatov each tallied for Texas, while Avery Pittman posted the lone Oklahoma City goal. Garrett Johnson finished with 26 saves in the Ice Hawks' loss.
Alexandria 2 @ Willmar 10 - Two-goal efforts from Jeremiah Konkel, Ben Leudtke and Collin Kerchoff set the pace as the Warhawks throttled the Blizzard 10-2 at home on Saturday night. Brady O'Brien, Luke Johnson, Max Cohen and Elbridge DeKraai rounded out a rampant Willmar attack, while Kaden Peterson and Matt McIntyre put Alexandria on the board. Will Kunka's 24 saves proved enough for the win in Willmar's net, while Joey Greilich finished with 37 stops Alexandria's loss.
Mason City 2 @ Granite City 4 - Four different skaters found twine and Xander Roberts stopped 18 of 20 shots as the Lumberjacks exacted some revenge with a 4-2 win over the Toros in a rematch of Friday night's tilt. Kullan Daikawa, Wilson Dahlheimer, Nolan Widman and Tucker Skime each lit the lamp for Granite City, while Jack Campion and Cullen Hogan struck for Mason City. Ryan Knight finished with 24 saves for the Toros on the night
New Ulm 4 @ Minnesota 1 - Tye Kusilek got the Loons on the board early, but the Steel responded with four unanswered goals for a 4-1 win in Breezy Point on Saturday. Goals from Vance Kleinschmidt, Conner Souza, Braxten Hoffmann and Ben Carlson led New Ulm's comeback in front of 30 saves from Nolan Lacosse. Minnesota's Payton West stopped 44 of 48 shots in his team's loss.
Bay State 3 @ Norwich 6 - Drew Schemmel scored twice, Alex Tsymbalyuk stopped 26 shots and the Sea Captains ousted the Bobcats 6-3 on Saturday. Trevor Souza, Jack Kinahan, Teagen Beier and Ethan Ranger also scored for Norwich, outpacing two goals from Jace Desmarais and one from Ian Skinner, both of Bay State. Bobcats goaltenders Ben Di Fiore and Braeden Bovey combined for 37 saves in the loss.
St. Louis 5 @ Oregon 13 - Paced by hat-tricks from Sam and Riley VanderHoeven as well as two-goal efforts from Tyler Steuck and Jason Tenezaca, the Tradesmen steamrolled the Jr. Blues 13-5 on Saturday night. Mac Reed, Gunnar Schiffmann and Carter Watters also scored for Oregon in front of a combined 36 saves from Aidan Wright and Ian Hedican in net. Michael Gakhutishvili (2), John Dapron, Tyler Williams and Michael Kennedy provided St. Louis' offense as netminders Carter Elmore and Ethan Jourden combined for 62 saves between the pipes.
Butte 5 @ Gillette 6 - A wild, back-and-forth affair gave way to a Wild win as Gillette, led by Tristan Baker's two goals and Robert Allport's 18 saves, stayed perfect this season with a 6-5 decision over the visiting Cobras. Alex Duchemin, Decla Young, Tucker Lien and Saizha Norwegian also filled the goal column for Gillette as they held off the hard-charging Cobras, who received goals from Cade Wessman (2), David Hanny, Jonah Gilbert and Caelin Chinery. Butte's Dale Pfannenstein stopped 28 of 34 pucks in the loss.
Yellowstone 4 @ Helena 6 - The Bighorns tallied three unanswered goals in the final 31 minutes to take a 6-4 comeback win over the Quake on Saturday. Liam Bland scored twice, as Eric Gibboney, Tyler Bloom, Adam Harvey and Sam Feamster each struck once to pace the Bighorns' offense in front of 21 Eric Buchholz saves between the pipes. Yellowstone goaltender Brandon Lakusta did all he could to give his team a chance with 89 saves on 95 shots, but Keegan Ferguson's hat-trick and Logan Brown's additional tally were not enough to keep the Bighorns at bay in this tilt.
Badlands 3 @ Bozeman 6 - Ian Bowman scored a hat-trick and Liam Scott stopped 33 pucks to give the Icedogs a 6-3 win over the visiting Sabres on Saturday. Nick Stevens, Michael Schwartz and Cole Busher each scored for Bozeman as well, while Brady Ridnour, Zach Vockler and Keagon Holloway provided Badlands' offense. Sabres goalie Zach Broxterman finished with 39 saves in his team's loss.
Great Falls 4 @ Sheridan 2 - Thomas Gazich and AJ Benit found twine in the third period to break a 2-2 deadlock and give the Americans a 4-2 win over the Hawks in Sheridan on Saturday. Garrett Weisenburger and Micah Serino netted the other goals for Great Falls, while Dakota Kott and Makhai Sparks grabbed goals for Sheridan. Ben Winkler finished with 25 saves in his team's win, while Thomas Kuriscak stopped 32 pucks in Sheridan's defeat.