Saturday Scores: Grizzlies exact revenge with sweep of Toros
October 10, 2021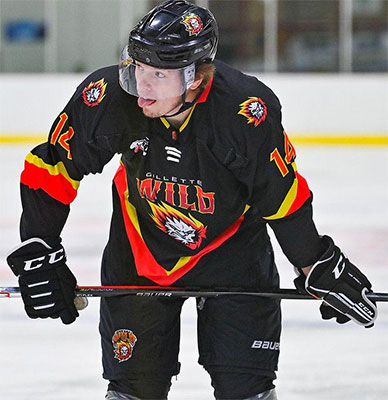 Mason City 2 @ Rochester 5 - Connor Mahoney's hat-trick and Zach Wiese's 33 saves led the way as the Grizzlies knocked off the Toros 5-2 on Saturday. Kyle Bauer and Justin Wright nabbed Rochester goals as well, while Sota Isogai and Cullen Hogan struck for Mason City. Toros netminder Ryan Knight finished with 23 saves between the pipes.
Great Falls 3 @ Helena 5 - Eric Buchholz stopped 46 pucks and five different skaters found the scoresheet as the Bighorns tallied four unanswered goals in the third period to knock off the Americans 5-3 on Saturday. Great Falls was cruising through two periods, with goals from Thomas Gazich, Tae Evans and Daniel Crutcher outpacing the lone Helena tally from Adam Harvey. But in the final frame, Johnathan Peterson, Andrew MacCallum, Tylor Greene and Taber Gutschick scored in waves for the Bighorns to give their team the win. Americans goaltender Ben Winkler did all he could to hold Helena at bay, but his 64 saves on 69 shots were not enough to pick up the win.
Sheridan 0 @ Gillette 5 - Jack Orchard stopped all 24 Sheridan shots to notch his first shutout of the year and help the Wild remain perfect this year as they toppled the Hawks 5-0 at home on Saturday. Nicolas Dellibovi led the offense with two goals in this tilt, with Saizha Norwegian, Carson Kuche and Declan Young joining him in the goal column. Bo Buckley faced a barrage in the Hawks' cage and turned in a strong showing despite the result with 59 saves on 64 shots.
Yellowstone 3 @ Bozeman 8 - A rampant Icedogs offense Bozeman to a comfortable 8-3 win over the visiting Quake on Saturday. Luke Busher, Cole Busher, Owen Shears, Colton Boyd, Grayden Pond, Shane Domanick, Ian Bowman and Luke Hartmark each scored in Bozeman's big night, while Gustov Ostman, Cameron Deforest and Gabe Coppo netted for Yellowstone. Liam Scott earned the victory with 29 saves in Bozeman's net, while Yellowstone's Cole Eastman faced a busy night with 49 saves on 57 shots at the other end.
Milwaukee 3 @ St. Louis 1 - Gianluca Boccardi struck for the Jr. Blues just under 90 seconds into the game, but the Power stormed back with three unanswered tallies to win 3-1 on Saturday. Ben Cremers, Mason Ausmus and Nate Stone fueled the Milwaukee comeback in front of 34 saves from Spencer Northway in net. St. Louis goaltender Brendan Cobb finished with an impressive 51 saves in the loss.
Danbury 1 @ Long Beach 4 - Logan Plante tallied twice, Greyson Skirpan stopped 20 pucks and the Sharks stayed hot with a 4-1 home win over the Jr. Hat Tricks. Jake Weikel and Tyler Zembrzycki also found twine for Long Beach, while Oleg Egorov got Danbury on the board. Liam McGibbon turned aside 32 of 36 shots in net for the Jr. Hat Tricks.
Austin 2 @ Louisiana 5 - The Drillers coasted past the Ice Bats on the strength of four unanswered goals in the first 40 minutes en route to a 5-2 win at home. Goals from Zan Mojzer, Mark Kurliandchyk, Bobby Hoskins, Timothy Miller and Thomas Mougin paced the Drillers' offensive burst, while Jerame Kennedy posted both Austin goals. Evan Wittchow picked up the win between the pipes with 20 saves for Louisiana, while Sebastian Skarzenski stopped an eye-popping 58 of 63 in Austin's net despite the loss.
Norwich 1 @ Bay State 2 - Second-period strikes from Landon Boothe and Tima Basarab pushed the Bobcats past the Sea Captains for a 2-1 win on Saturday. Teagen Beier put Norwich on the board in the third period, but Ben Di Fiore stopped 27 of 28 total shots to backstop Bay State's victory. Norwich's Andrew Yocum finished with 49 saves in the tight defeat.
Wausau 0 @ Peoria 3 - A scoreless 40 minutes gave way to a three-goal outburst from the Mustangs in the third period, who topped the Cyclones 3-0 on the strength of Joe Ambroffi's 21-save shutout. Ethan Chesney, Jackson Gram and Tristan Trudel provided the offense for Peoria, while Zach Dosan stopped 41 pucks for Wausau.
TX RoadRunners 4 @ Atlanta 1 - Three goals in the first period sparked the RoadRunners to an eventual 4-1 lead over the Capitals on Saturday. Derek Boutin led Texas with two goals, joining Jack Herron and Tyler Love in the goal column, while Kaleb Miller grabbed Atlanta's lone goal. Alexander Opalacz turned aside 35 of 36 shots between the pipes for Texas, while Coleman Garner stopped 44 of 48 shots for Atlanta.
Willmar 4 @ Alexandria 5 (OT) - Matt Scribner scored his first goal of the year late into the extra frame to help the Blizzard knock off the Warhawks 5-4 in overtime on Saturday. Ryan Hadland, Sean Kenny, Joe Gronholz and Cole Klingbeil scored for Alexandria during regulation time, but their efforts were matched by Willmar's Jeremiah Konkel (who scored twice), Enzo Tarducci and Nolan Grier, who tallied with fewer than 30 seconds left to play to force overtime. Joey Greilich stopped 38 pucks to pick up the win, outmatching Cooper Olson of Willmar, who stopped 34.
Granite City 6 @ New Ulm 0 - Xander Roberts stopped all 17 shots that came his way and Nick Stevens had a night at the other end of the ice with a hat-trick and a helper as the Lumberjacks cruised past the Steel 6-0 on Saturday. Brett Reed, Wilson Dahlheimer and Nicholas Richert rounded out the scoring in this one, as New Ulm netminders Nolan Lacosse and Zach Foster combined for 39 saves in their team's loss.
Oregon 8 @ Minnesota 5 - A wild, see-saw affair came down to a four-goal third period from the Tradesmen as they came from behind to knock off the Loons 8-5 in Breezy Point on Saturday. A Sam VanderHoeven hat-trick and two goals from Luke DePasquale led the Oregon charge up on the scoreboard, as Carter Watters, Cayden Erickson and Aden Cobbs also found twine for the visitors. Jamison St. Clair (2), Trent Daly, Xavier Brooks and Kyler Couture helped Minnesota out to an early lead, but the Tradesmen response proved too strong. Oregon netminder Cole Garver turned aside 21 pucks for the win, while Minnesota's Payton West stopped 48 of 56 in the loss.
Butte 2 @ Badlands 3 (OT) - Seth Stock lit the lamp midway through overtime to help the Sabres oust the Cobras 3-2 at home on Saturday. The two teams traded goals during regulation time, with Rhodes Buffalo and Zach Vockler scoring for Badlands and Fabian Vik and JD Lion lighting the lamp for Butte, but both goaltenders stood tall to take the game to an extra frame. Badlands' Maxim Currie was phenomenal in this one, stopping 54 of 56 shots for the win, while Butte's Caleb Cross put in a strong showing of his own with 28 saves in the OT loss.