Titans stay perfect with comeback OT win over Sharks
October 22, 2021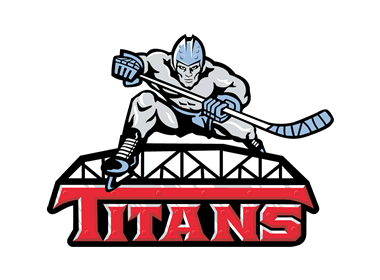 Long Beach 3 @ New Jersey 4 (OT) – The New Jersey Titans stormed back from a 3-1 deficit in the 3rd period to tie the game late in regulation, then get the overtime winner on Samuel Senft's second goal of the game as they stayed undefeated on the season thanks to a 4-3 overtime win over the 1st place Sharks.
The Sharks were first on the board thanks to a 1st period goal from Tyler Zembrzycki, his 7th goal of the season.
New Jersey tied the game at 1-1 early in the 2nd period thanks to a power play goal from Isaiah McKinney. The Sharks regained their one-goal edge later in the period as Jake Weikel scored shorthanded for his 9th goal of the season.
Early in the 3rd period, the Sharks increased the lead to 3-1 as Weikel scored his second shorthanded goal of the game and 10th goal of the season. The Titans stormed back to tie the game at 3-3 later in the 3rd period as Brian Lupo scored to make it 3-2 and them Samuel Senft scored with just 0.2 seconds remaining in regulation to tie the game at 3-3 and send the game to overtime.
In overtime, it was Senft again for his second goal of the game, this time on the power play, as he picked up a loose puck in the slot and fired it over the catching glove of Sharks goalie Greyson Skirpan for the game-winner.
Donavan Alfama made 42 saves in the win, while Skirpan made 47 saves in the loss.