October 22, 2021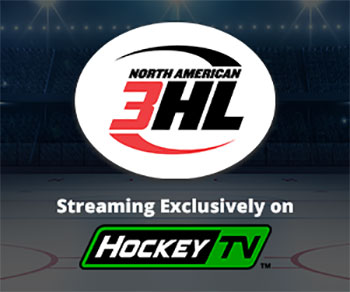 This weekend in the NA3HL is a little lighter than usual with 26 games on the slate from Friday through Sunday.
Less than two months remain until the NA3HL Showcase, which will take place at the Super Rink in Blaine, MN, from December 20-22.
All NA3HL teams will play three regular-season games at the Showcase, which is annually one of the most well-attended and scouted events of the entire season for the league, attracting college and junior scouts alike. The 2021 NA3HL Showcase schedule will be released on Wednesday, December 1st and will pair up evenly matched teams against one another based on the current standings and is also designed to have cross-divisional games with balanced competition.
In the Central, the Rochester Grizzlies put their unbeaten record on the line this weekend and the Peoria Mustangs also look to continue their hot play. In the East this weekend, something has to give as a clash of undefeated teams goes down on Saturday with New Jersey at Northeast with both teams sporting 6-0 records. In the Frontier, two undefeated teams remain as Gillette hosts Bozeman, while Helena is on the road in Butte. The Great Falls Americans play their first home game of the season. In the South, Oklahoma City looks for their first win by taking on the undefeated Texas Brahmas. In the West, winning streaks for Granite City and Alexandria are on the line as they are both in action.
The NA3HL is in its 12th season in 2021-22 and serves as one of the top training grounds in the country by providing the best coaching, exposure and developmental vehicles available for student-athletes in Tier III junior hockey. It is one of only two USA Hockey-sanctioned Tier III junior leagues.
No other league of its kind has had more movement and advanced more players onto play in the North American Hockey League (NAHL) than the NA3HL. Thanks to additional and enhanced initiatives in cooperation with the NAHL put in place several years ago, more players from the NA3HL play, practice, and earn NCAA Division I scholarships with the NAHL than any other league.
This past season not only did 35 NA3HL players sign tenders to play in the NAHL for the 2021-22 season, but 21 more players were selected in the 2021 NAHL Draft. The NA3HL also continues to make its mark and is one of the leaders in junior hockey with the advancement of players onto the NCAA. So far in 2021, the NA3HL has over 100+ college commitments, with almost 70% of those being NCAA commitments. In addition, over 300 former NA3HL players are currently playing in the NCAA, and 13% of NCAA Division III freshmen this season previously played in the NA3HL.
All games broadcast live on HockeyTV.
FRI, OCTOBER 22
Norwich at Northeast - 8:00 PM EDT
Texas Brahmas at Oklahoma City - 7:05 PM CDT
Granite City at New Ulm - 7:10 PM CDT
Peoria at Wausau - 7:10 PM CDT
Alexandria at Willmar - 7:10 PM CDT
Minnesota at Mason City - 7:30 PM CDT
St. Louis at Oregon - 7:30 PM CDT
Bozeman at Gillette - 7:05 PM MDT
Butte at Great Falls - 7:30 PM MDT
Sheridan at Yellowstone - 7:30 PM MDT
SAT, OCTOBER 23
Rochester at Milwaukee - 3:30 PM CDT
Long Beach at Bay State - 6:30 PM EDT
New Jersey at Northeast - 8:00 PM EDT
Texas Brahmas at Oklahoma City - 7:05 PM CDT
New Ulm at Alexandria - 7:10 PM CDT
Peoria at Wausau - 7:10 PM CDT
Willmar at Granite City - 7:30 PM CDT
Minnesota at Mason City - 7:30 PM CDT
St. Louis at Oregon - 7:30 PM CDT
Helena at Butte - 7:00 PM MDT
Bozeman at Gillette - 7:05 PM MDT
Sheridan at Yellowstone - 7:30 PM MDT
SUN, OCTOBER 24
Texas Brahmas at Oklahoma City - 1:05 PM CDT
Rochester at Milwaukee - 2:30 PM CDT
New Jersey at Northeast - 4:00 PM EDT
Bay State at Danbury - 7:00 PM EDT