Sunday Wrap-Up: OKC rolls to sixth straight win with sweep
November 8, 2021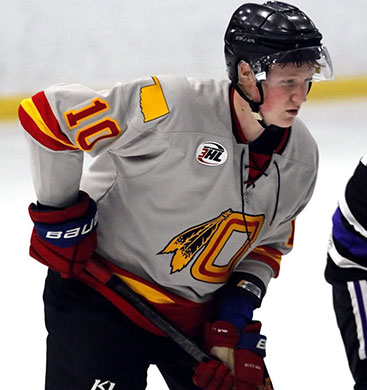 Atlanta 2 @ Oklahoma City 8 – Avery Pittman had a hat-trick and an assist to lead the Ice Hawks to their sixth straight win as the swept a weekend series against Atlanta thanks to a 8-2 win on Sunday. The Ice Hawks led 4-2 after two periods as Pittman scored twice and Robby Rabroker and Jakob Holley, while the Capitals got goals from Caleb Crouch and Kirill Nikulichev. In the 3rd period, the Ice Hawks blew the game open with four goals including the third from Pittman, a second from Rabroker, and others from Tyler Larsen and Patrick Wyers. Blake Sprow made 24 saves in the win, while Paul Jarvis made 47 saves in the loss.
El Paso 10 @ Louisiana 1 – Connor Thompson had four goals and an assist and Matthew Gross had three goals and an assist as the Rhinos picked up a series win over the Drillers with a 10-1 win on Sunday in the rubber match. It was all Rhinos from the start as goals from Gross and Thompson in the 1st period made it 2-0. The Rhinos erupted for six more goals in the 2nd period as Thompson completed his hat-trick, Gross scored his second goal, and Caden Butler, Wesley Rees, and Zachary Ware also scored. In the 3rd period, Thompson scored his fourth and Gross completed his hat-trick. Late in the period Chris Littlefield scored the lone goal for Louisiana. Camden Pendleton and Peyton Brendel combined for 26 saves in the win, while Evan Wittchow made 14 saves and Brandon Keeney made 19 saves in the loss.
Danbury 4 @ Bay State 1 – Lorenzo Rossi made 28 saves to lead Danbury to a 4-1 road win against Bay State. After a scoreless 1st period, Danbury took a 2-0 lead in the 2nd period with goals from Daniel Khatib and Nikita Kovalev. In the 3rd period, the Danbury lead increased to 3-0 as Ivan Kovalev scored. The Bobacts found the back of the net for their lone goal of the game with just over five minutes remaining as Landon Boothe scored on the power play. Jake Harshman would add an empty-net goal for Danbury to complete the scoring. Bobcats goalie Ben Di Fiore made 25 saves in the loss.