Sheridan Hawks announce coaching change
November 29, 2021
by Chris Vinel, The Sheridan Press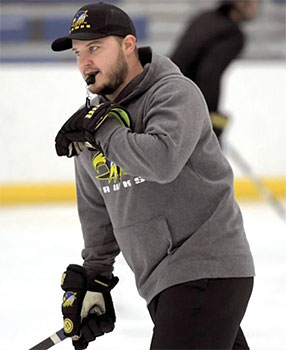 The NA3HL's Sheridan Hawks have a new head coach.
The team and Andy Scheib agreed to mutually part ways after two and a half seasons earlier this week. Assistant Chad Bailey replaces Scheib as the head coach on an interim basis.
"At this point, we've talked a bit, and both just decided it was a good time for everybody to make a change," Team President Brent Milner said. "He has some other options he's looking at. As a team, we're looking to continue building on what we've done so far, and we think, at this point, that's going to involve someone else as a head coach."
"There wasn't any inciting event or anything like that," Milner said. "It was just kind of, overall, looking at the needs of the program and where Andy wanted to go in his coaching and things like that. It wasn't any one thing in particular."
Scheib served as the first-ever head coach of the Hawks after the team relocated from Wisconsin in 2019. His time with the organization dates back six seasons — two as an assistant, one as head coach in Wisconsin and the last two and a half as head coach in Sheridan.
He led the Hawks to a second-place finish in their division in 2019 before running away with first place last season. Scheib's squad lost in the Fraser Cup national semifinals last April after tallying a 39-1 regular-season record and adding a few more victories throughout the postseason.
"Andy's been tremendous here," Milner said. "He helped get the program off the ground as the first coach. He had two great seasons to really get us going. Things are a little tougher this year in terms of recruiting across the board, not just here but across the board in the league. We've had some players come and go."
"I am excited about the opportunity at hand and the task at hand," Bailey said. "(I'm excited to see) where this leads and what it could be and how we can improve every day and make it the best junior program in the country and a place where kids want to come and be a part of the history here. I think we have the opportunity to do that."
Bailey joined the team as an assistant before its first season in Sheridan and said he appreciates Scheib and what they've done together.
"He's a friend, he's a colleague, and he's someone I respect and I've worked with for the past two and a half years," Bailey said. "We've had a lot of success together. We've had our ups and our downs. When I found out, I told him I didn't want our relationship to change.
"We've built something special here over the past two and a half years. I want to be able to call him if I ever need anything and have him do the same. He and I are still friends and still on the same page. We want to see this program be successful and be the best it can be moving forward."
Milner said the organization will conduct a search and evaluate interested candidates. It does not have a set timeline to make a permanent hire. Bailey, who said he would like the job full-time, will be considered, per Milner.
"I want to stay in Sheridan," Bailey said. "I want to keep building on what we've built. I planned on being here next year as an assistant coach before that happened. So for there to be an opportunity for me to be here after this season, I would love that and would love to continue to be a part of the Sheridan community and the Hawks."