Titans snap skid with 5-2 win over Norwich
December 3, 2021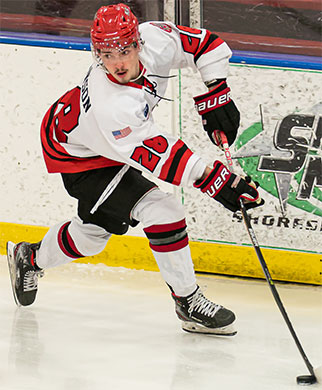 Norwich 2 @ New Jersey 5 - Jesse Dickinson scored two goals to help the Titans defeat the visiting Norwich Sea Captains 5-2 yesterday. The win snapped the Titans five-game losing streak.
Ryan Kenna put the Titans on the board at 2:35 into the opening period with assists from Aaron Hicks and Teito Ishigaki. The Titans then scored their second powerplay goal of the game off the stick of Dickinson with an assist from Ethan Riquinha to make it 2-0. Dickinson made it 3-0 with his second goal of the game with 5:26 left in the first period with an assist from Sam Senft.
Defenseman Aidan Cook scored his first goal of the season at 4:27 into the second period to make it 4-0 in the 2nd period. Cook was assisted by Jacob Renbarger. The Sea Captains' Tony Morran scored with 9:15 left in the middle stanza to make it a 4-1game.
Mason Garnhart gave the Titans a 5-1 lead just a minute into the third period. Norwich's Jack Kinahan scored a powerplay goal at 4:28 of the final period to close out the score.
Donovan Alfama stopped 32 of 34 shots in the victory (his fourth of the season) while Brendan Pellerito turned aside 32 of 37 in defeat.