Sunday Wrap-Up: Bozeman clinches playoff spot with win
February 14, 2022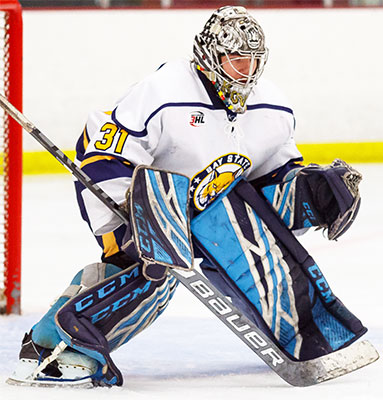 Great Falls 3 @ Bozeman 4 – The Icedogs secured a spot in the Fraser Cup Playoffs thanks to a 4-3 win at home over Great Falls on Sunday. The teams traded goals in the 1st period as Forrest Musselman scored for Bozeman and Jace Thompson scored for Great Falls. Wesley Rees scored for Bozeman early in the 2nd period, but the Americans responded with goals from Petr Van Voorhis and Thomas Gazich to take a 3-2 lead. The Icedogs stomed back in the 3rd period with goals from Nick Smith and Liam Massie to secure the 4-3 win. Cameron Milewski made 27 saves in the win, while Will Simpson made 28 saves in the loss.
Bay State 3 Norwich 2 (SO) – Bobcats goalie Braeden Bovey made 35 saves and then stopped both Norwich shooters in the shootout as Bay State claimed a 3-2 shootout win over Norwich on Sunday. Bay State opened the scoring thanks to a 1st period goal from Nate Mastrony. In the 2nd period, Norwich tied the game as Teagen Beier and Troy Harwell scored, while Brian Woak netted the second goal for Bay State. In the shootout, Bay State got goals from Michael Montague and Ryan Janik to secure the extra point. Norwich goalie Andrew Yocum made 30 saves in the loss.
Alexandria 6 @ Milwaukee 3 – Six different players scored for the Blizzard and Andrew Tuttle made a season-high 45 saves as Alexandria doubled up the Power on Sunday, 6-3. The teams were even at 2-2 after the 1st period as Charlie Larsen and Ethan Moerke scored for the Blizzard, while Riley Planey and Nate Stone answered for Milwaukee. Alexandria then rattled off three straight goals to take a 5-2 lead as Justin Wasvick, Cole Klingbeil, and Gavin Carlson scored. In the 3rd period, Alex Heidenreich added a goal for Alexandria, while Connor O'Neal scored for Milwaukee. Power goalie Spencer Northway made 44 saves in the loss.
TX RoadRunners 2 @ Oklahoma City 5 – The Ice Hawks salvaged win in their three-game set with the RoadRunners as they picked up a 5-2 win on Sunday. Five different players scored in the OKC win. OKC led 3-0 late in the 2nd period on goals from Vincent Anderson, Lugas Helland, and Ben Mullen. The RoadRunners scored two goals late in the 2nd period as Samuel Bourdon and Jack Herron scored, but goals from Ice Hawks players Carl Bengtsson and Robby Rabroker secured the 5-2 win for Oklahoma City. Blake Sprow made 20 saves in the win, while Hunter Hein made 20 saves in the loss.