Sunday Wrap-Up: Brahmas off to 2-0 start after sweep
October 3, 2022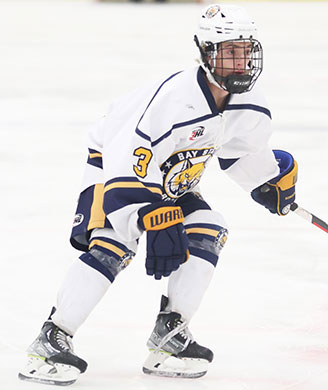 Mid Cities 1 @ TX Brahmas 6 – The Brahmas are off to a 2-0 start on the season thanks to a 6-1 win on Sunday over the Stars, which completed a weekend sweep. The Brahmas scored twice in each period as Michael Imala and Colin Stow scored in the 1st period, Cameron Colberg and Adam Goldstein added 2nd period goals and Aaron Best and Kirill Konoplianko added goals in the 3rd period. Dakota Brandom had the lone goal for the Stars in the loss. Josh Purpura made 21 saves in the win, while Aaron Palos made 48 saves in the loss.
Long Beach 4 @ Bay State 6 – The Bobcats rode a two-goal game from both Landen Schoonover and Jason Melanson to give them their first win of the 2022-23 season in a 6-4 win over the Sharks on Sunday. The two teams were tied a 2-2 after two periods as Melanson and Nate Mastrony scored for Bay State, while Noah Hope and Matus Fialka scored for the Sharks. In the 3rd period, Schoonover scored two goals, Melanson added another and Paul Johnson also scored. Dylan Harbour and Jack Fitzpatrick scored the other goals for Long Beach. AJ Cooper made 46 saves in the win, while Colten McIntyre made 24 saves in the loss.
Norwich 2 @ New Jersey 3 (SO) – Lachlan Haeger had a goal in regulation and the shootout-winner as the Titans split their series with Norwich thanks to a 3-2 shootout win on Sunday. The Sea Captains took an early 2-1 lead in the 1st period with goals from Teagen Beier and Tim Hayden, while Haeger had the lone goal in the 1st period from New Jersey. In the 3rd period, the Titans tied the game at 2-2 on a goal from Grant Coykendall. In the shootout, Antonio Vidal, Ryan Talorico, and Haeger. Jake Agoglia made 29 saves in the win, while Presley Patrin made 29 saves in the loss.
Atlanta 7 @ Louisiana 2 – Anthony O'Neal had a four-point night and Nick Mumford scored twice to lead the Capitals to a 7-2 win in Louisiana on Sunday. The Caps scored the first two goals as Dylan Zier and O'Neal lit the lamp. The Drillers tied the game at two early in the 2nd period on goals from Lukas Dany and Thomas Mougin. It was all Caps after that as Atlanta rattled off five straight goals for the 7-2 win, which included another from O'Neal and others from Nick Jameus, Nick Refine, and two from Mumford. Damian Vandanacker made 28 saves in the win, while Nick Clark made 14 saves in the loss.