Sunday Wrap-Up: Capitals cruise to three-game sweep
January 30, 2023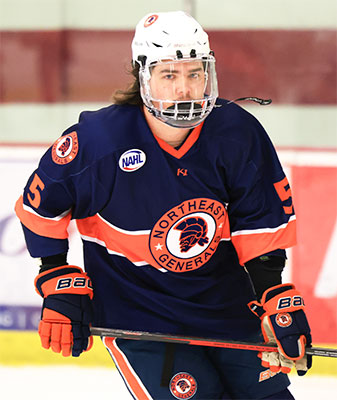 Atlanta 7 @ Austin 1 – The Capitals stayed in the playoff hunt in the South as they completed a three-game sweep of the Ice Bats thanks to a 7-1 in on Sunday, outscoring Austin 21-3 in the series. Six different players scored for the Caps and Harrison Flaacke had two goals and an assist. The Caps jumped out to a 3-0 lead with Flaacke scoring twice and Ethan Koval also scoring. Austin found the back of the net in the 2nd period with their lone goal from Ben Allen, but the Caps would then add four more goals from Nick Mumford, Isaac Fuller, Taras Korotchenko, and Jacob Bartholomew to secure the 7-1 win. Damian Vandanacker made 14 saves in the win.
Norwich 0 @ Northeast 6 – The Generals got two goals from Dalton Wille and a 16-save shutout from D'Mar McCoy in a 6-0 win over the Sea Captains. The Generals took a 2-0 lead in the 1st period with goals from Wille and Braeden Kennedy. In the 2nd period, the lead swelled to 5-0 with goals from Micaiah Bascombe, Matthew Nuzzolilo, and Wille. Gabe Coppo would add a 3rd period goal. Kristof Karpati added three assists for the Generals. Sea Captains goalie Andrew Yocum made 33 saves in the loss.
Mid Cities 3 @ TX Brahmas 9 – Joseph Crowley had a hat-trick and Benjamin Mondou had four assists to lead the Brahmas to a 9-3 win over the Stars. Texas led 6-0 after the first two periods thanks to two goals from Crowley, two from Adam Goldstein, and two from Michael Imala. Mid Cities scored three times in the 3rd period on two goals from Brendon Zeis and one from Dakota Brandom, but the Brahmas pulled away with goals from Wyatt Witham, Chase Forry, and the third from Crowley. Brendan Forden made 17 saves in the win.
Long Beach 3 @ Bay State 2 – The Sharks erased a 2-0 deficit and scored the final three goals of the game in a 3-2 win over the Bobcats. Bay State led 2-0 in the 1st period with goals from Dmitri Musalimov and Zack O'Neil. The Sharks fought back with a power play goal from Matus Fialka in the 1st period, a goal from Zac Kretzschmer in the 2nd period, and Devin Carney late in the 3rd period. Colten McIntyre made 24 saves in the win, while Jacob King made 29 saves in the loss.