Lumberjacks sweep Wild with 5-3 win on Sunday
February 5, 2023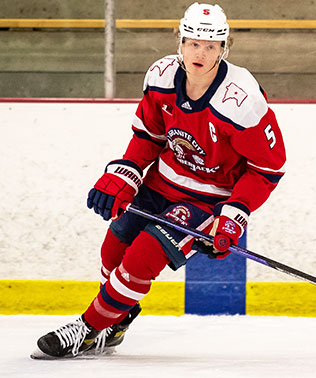 Gillette 3 @ Granite City 5 – Lumberjacks defenseman Kyle Mortenson continued his climb up the league-leaderboard as he recorded a goal and two assists in a 5-3 win over the visiting Gillette Wild on Sunday.
The score was even at 2-2 after one period as Matthew Delany and Tanner Brouwer scored for the Lumberjacks, with the Wild answering with goals from Isaac Young and Ryan Hipsag.
In the 2nd period, the Wild took a 3-2 lead on a shorthanded goal from Zack Slinger. The Lumberjacks would fight back later in the period as they evened the score on Mortenson's 11th goal of the season, which was then followed by a goal from Parker Comstock to make it a 4-3 game.
In the late staged of the 3rd period, the Lumberjacks secured the 5-3 win thanks to an empty-net goal from Zak Kennett.
Granite City goalie Paul Cassin made 23 saves in the win, while Cole Wheaton made 36 saves in the loss.