Egorov leads Danbury to 5th straight win
March 2, 2023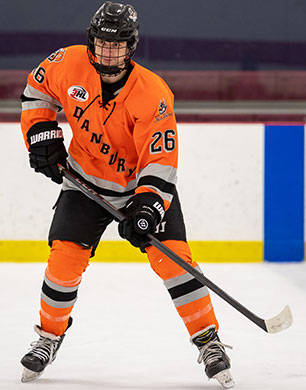 Danbury 5 @ Bay State 2 – Danbury forward Oleg Egorov scored two goals to extend his point streak to 13 straight games as the Jr. Hat Tricks locked up 2nd place in the East Division thanks to their 5th straight win as they beat the Bobcats, 5-2.
Danbury opened up a 2-0 lead midway through the contest as Robert Martufi scored in the 1st period and Tyler Christian added a goal early in the 2nd period. Bay State cut the lead down to 2-1 as Landon Schoonover scored his 20th goal of the season. Before the period was over, Egorov scored to make it 3-1 later in the period.
In the 3rd period, the Jr. Hat Tricks added two more goals from Denis Radchenko and Egorov to complete the 5-2 win. Jason Melanson had the other goal for the Bobcats in the loss.
Ryan Maguire made 29 saves in the win, while Jarret Perino made 32 saves in the loss.