Wild take Game 1 of Frontier Finals
March 16, 2023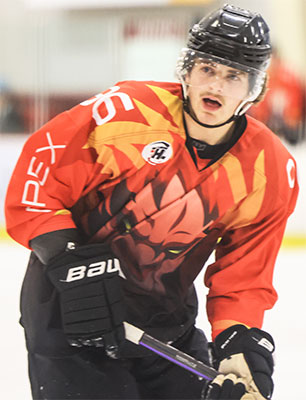 Frontier Division Finals, Game 1: Helena 2 @ Gillette 5 (Gillette leads series, 1-0) – Sky Solig scored twice and Anthony Foster had three points as the Wild jumped out to an early lead and never looked back in a 5-2 win in Game 1 of the Frontier Division Finals.
Solig opened the scoring late in the 1st period. In the 2nd period, the lead swelled to 3-0 for the Wild as in the period's opening minutes Jace Johnson and Solig found the back of the net.
Late in the 2nd period, the Bighorns tried to mount a comeback as Darby McCarthy scored to make it 3-1. The Bighorns then made it 3-2 in the 3rd period with a power play goal from Harlan Wojtusik.
However, the Wild would pull away later in the 3rd period with goals from Johan Palmqvist and Anthony Foster to make the final score 5-2.
Cole Wheaton made 30 saves in the win, while Keaton French made 27 saves in the loss.
The series now shifts to Helena for Game 2 on Friday.