Comeback Kids! Lumberjacks win 4th Fraser Cup Championship
March 26, 2023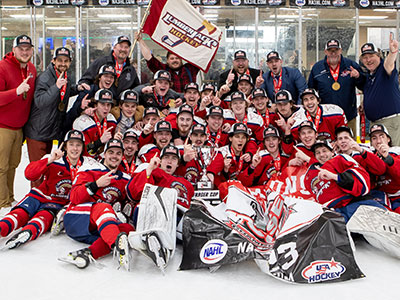 Fraser Cup National Championship Game: Granite City 6 vs. Alexandria 5 - Down 5-2 late in the 2nd period, the Granite City Lumberjacks scored the final four goals of the game, including the game-winner with 9.2 seconds remaining in regulation, to come from behind and defeat their West Division rivals, the Alexandria Blizzard, 6-5, to capture their fourth Fraser Cup National Championship in the last 11 years.
After some early pressure from Granite City, the Blizzard seized control in the middle of the opening frame. Michael DeBrito got the scoring started as he tipped home a shot from the point to put Alexandria ahead, 1-0. Just :32 seconds after that goal, the Blizzard scored again as Matt McIntyre fired home a snapshot from the right circle to make it 2-0. The Blizzard kept the pressure on and then less than two minutes after their second goal, they made it 3-0 on a shot from the high slot from Karsten Senden. Later in the period, the Lumberjacks got on the board with a rebound tally from Hayden Johnson to make it a 3-1 contest after 20 minutes.
In the 2nd period, each team scored twice as the offenses continued to flex their muscles. Just :33 seconds into the period, the Blizzard scored on the power play as Matt McIntyre put home a rebound chance to make it 4-1. Granite City came back to make it 4-2 as Tucker Skime collected a rebound after Blizzard goalie Konrad Kausch could not control the loose puck. The Blizzard went back up by three as a shot from Hayden DeMars went over the shoulder of Lumberjacks goalie Ryan Lehet for a 5-2 lead. That would be the end of the night for Lumberjacks goalie Ryan Lehet, who departed after giving up five goals on 22 shots. Paul Cassin came in to replace Lehet, which in hindsight would start the Granite City comeback.With :29 seconds remaining in the period the Lumberjacks pulled to within two goals at 5-3 thanks to a power play goal from Lyncoln Bielenberg-Howarth.
In the 3rd period, the Lumberjacks would complete the improbable four-goal comeback. Fraser Cup Most Valuable Player Tanner Brouwer scored midway through the period to make it a 5-4 contest. With just under three minutes to play, Zak Kennett tipped home a shot from the point to tie the game at 5-5. With just 9.2 seconds remaining in regulation a rush up the ice saw Carson Van Zuilen collect a loose puck and put it past sliding Blizzard goalie Konrad Kausch for the game and Championship-winning goal.
Cassin stopped all 11 shots he saw in his only Fraser Cup action. Kausch made 27 saves on 33 shots in the losing effort for the Blizzard.
NA3HL Fraser Cup All-Tournament Team
Forward: Tanner Brouwer, Granite City Lumberjacks (Most Valuable Player)
Forward: Ryan Hadland, Alexandria Blizzard
Forward: Paul Huglen, Granite City Lumberjacks
Defense: Wyatt Johnson, Alexandria Blizzard
Defense: Kyle Mortenson, Granite City Lumberjacks
Goaltender: Keaton French, Helena Bighorns
All-Time Fraser Cup Champions
2023 Granite City Lumberjacks
2022 Rochester Grizzlies
2021 North Iowa Bulls
2020 Event Canceled
2019 Texas Brahmas
2018 Metro Jets
2017 Granite City Lumberjacks
2016 North Iowa Bulls
2015 Granite City Lumberjacks
2014 North Iowa Bulls
2013 North Iowa Bulls
2012 Granite City Lumberjacks
2011 Chicago Hitmen
2010 St. Louis Jr. Blues
2009 Dubuque Thunderbirds
2008 Dubuque Thunderbirds
2007 Dubuque Thunderbirds
2006 St. Louis Jr. Blues
2005 St. Louis Jr. Blues
2004 St. Louis Jr. Blues
2003 St. Louis Jr. Blues
2002 Metro Jets
2001 Metro Jets
2000 St. Louis Jr. Blues
1999 Toledo Cherokee
1998 Motor City Chiefs
1997 Toledo Cherokee
1996 Motor City Chiefs
1995 Toledo Cherokee
1994 St. Louis Jr. Blues
1993 Wayne Chiefs
1992 Downriver Blades
1991 Wayne Chiefs
1990 Metro Jets
1989 Lytes Rustlers
1988 St. Louis Jr. Blues