First three 3HL tenders to NAHL are signed
December 30, 2011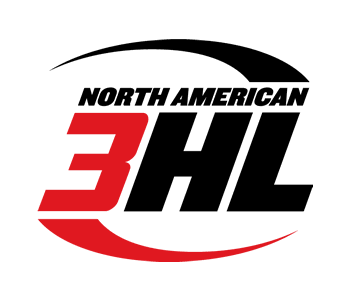 The first of the tenders of the 3HL season have been signed as players starting making their future plans to play in the North American Hockey League (NAHL). This season, each of the 28 NAHL teams has one tender that they have to use exclusively on a 3HL player. This season has already seen many former 3HL players making an impact in the NAHL like former Queen City Steam goaltender Matt Leon (Wichita Falls) and former Granite City Lumberjacks forward Tyler Cayemberg (Odessa Jackalopes).
The St. Louis Jr. Blues are proud to announce that two of their players have signed NAHL tenders.
Forward Trace Jablin has signed a tender to play for the Kenai River Brown Bears of the North American Hockey League in Alaska and forward Daniel Rosse has signed a tender for the 2012-13 season with the St. Louis Bandits.
Jr. Blues Head Coach, J.P. Beilsten said, "We couldn't be more excited for Trace. He brings the full package from skating ability and puck handling ability, to grit and ability to play in the corners. Kenai is getting an outstanding prospect." Kenai currently sits in 3rd place, but are in 1st place when considering lost points, in the tight NAHL West Division race.
Brown Bear's Head Coach, Oliver David said, "We are very excited to have the opportunity to get Trace in a Brow Bear's uniform. The St. Louis staff does a tremendous job of accurately promoting their players, and we are happy to be considered as a destination for the Jr. Blues players looking to play at our level.
Jablin's 25 points is good for 3rd in team scoring and he becomes the 2nd Jr. Blues player to be tendered for next year, joining Daniel Rosse.
Rosse is 4th in league scoring, tied for the league lead in game winning goals, and leads the league in goals. Says Head Coach JP Beilsten, "Daniel has had a tremendous season for us to this point. After we signed him, we watched him skate with the Bandits in their main camp and he did well. He obviously had a couple of things to work on, but he has shown he can compete against older, stronger competition. He gets better every week. He is learning to use his speed, use his shot, and use his hands to create plays, and just as importantly, he is learning to use his body to create space on on the ice.
Metro Jets defenseman Adam Reid has excelled in his first season in the North American 3 Hockey League and the New Mexico Mustangs of the North American Hockey League have taken notice. This past week, the Mustangs offered a tender to Reid for the 2012-13 season and the 19-year-old happily accepted.
"The tender opportunity came up at the showcase in Chicago the first week of December," explained Reid, a Kalamazoo native who lived the past 14 years in Georgetown, Tex. "After our first game against Quad City, (Jets coach Jason) Cirone said that New Mexico was inquiring about me and that they'd be watching me again in our game the next day. After the second game, their scout and assistant coach Nick Shackford approached me with the offer."
"I'm very proud of Adam," said Cirone. "We're in the business of developing and advancing our players and I think this speaks volumes in Adam's case. He only played four games of midget hockey last year dealing with a concussion, but came in this year and has been one of our most consistent defensemen."
Reid has also done his homework on the Mustangs, a second-year NAHL franchise coached by Jason Kersner. "I know the Mustangs are a solid organization with good ownership and management," said Reid. "I also know they started out a little rough this season, but have been turning it around lately with all their roster changes. They're only a few points out of the playoffs right now and expect to make it. Cirone also knows their coaches pretty well and has respect for them and I have a lot of trust in his judgment. To prepare to make the team next year, I want to gain a little more weight and become faster and stronger," Reid said. "I also have several tactical things that Shackford and Cirone have said I need to improve on."