Bulls win Nationals opener over New Hampshire, 5-2
April 4, 2013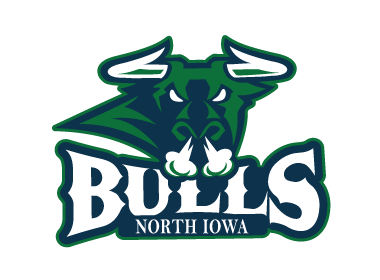 Game #1: North Iowa Bulls 5 vs. New Hampshire Jr. Monarchs 2
The NA3HL's North Iowa Bulls made quick work of the Empire Junior Hockey League's New Hampshire Jr. Monarchs on Thursday in the first game of the 2013 USA Hockey Tier III Junior National Championships, as they dominated with a 5-2 win, outshooting the Monarchs 60-24 in the process.
After the Monarchs scored on their first shot of the game early in the 1st period, it was all Bulls from there. North Iowa evened things at 1-1 with some nice pressure in the New Hampshire zone that led to shot from the point from Matthew Fosdick, that saw a big rebound kicked out right to North Iowa forward Eric Behrend, who deposited the puck in the back of the net to tie the game. Later in the period, right after a North Iowa power play expired, Patrick Sivets carried the puck in the Monarchs zone, dangled in the high slot and slipped a backhand shot past New Hampshire goalie Cole Burack for a 2-1 lead.
In the 2nd period, it was more Bulls. Four minutes into the period a dump-in was misplayed by Burack and the Bulls took advantage as Conor Jonasson and Bobby Chapman worked to poke the puck free behind the net and got it to an open Bryan Broders in front, who poked home the loose puck into the open net for a 3-1 lead. Patrick Sivets scored his second goal of the game, as he got behind the Monarchs defense and slipped home a breakaway drive over the glove of Burack for a 4-1 lead.
James Hughes made it 5-1 early in the 3rd period with an assist to Tim Santopoalo. New Hampshire would score once more, but Matt Bartels made the lead stand with 22 saves.
"We are trying to make teams work the full 200 feet to beat us and because we are rolling four solid lines, we are a tough team to beat," remarked Bulls head coach Todd Sanden. "What we faced in the NA3HL and in the Silver Cup playoffs has really prepared us for this tournament and we are pleased with the start we had today."
Next Game - Friday, April 5th @ 10AM vs. Bellingham Blazers
Game #3 - Saturday, April 6th @7PM vs. Twin Cities Northern Lights
Depending on how the Bulls fare in their first three games, they would have the opportunity to play Sunday, April 7th in a semi-final game (time TBA) and then if they are victorious in that game, would play for the National Championship on Monday, April 8th @12 Noon.
Stay tuned to na3hl.com for all tournament and game updates as we follow the Bulls on the road to the National Championship.
Click here for the official USA Hockey website for the tournament
Watch all the Nationals games live on FASTHockey