Bulls move into National Semi-Finals with another big win
April 5, 2013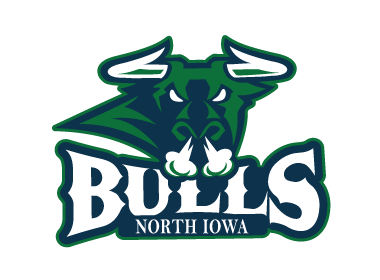 Game #2: North Iowa Bulls 7 vs. Bellingham Blazers 0
The North Iowa Bulls moved to 2-0 in the USA Hockey Tier III Junior National Championship Tournament thanks to another dominating performance, this time over the NORPAC's Bellingham Blazers by a score of 7-0 on Friday morning. James Hughes had two goals (including the game-winner) as did Bulls forward Richie Marenis.
The win along with a win by the Twin Cities Northern Lights on Friday assured both teams of a spot in the Semi-Finals. The two undefeated teams will face one another on Saturday to determine who gets the #1 and #2 seeds coming out of the pool.
Hughes got the scoring going minutes into the 1st period, as he converted on a 2 on 1 with assists to Matt Kroska and Connor Langfield. Midway through the period, it was Patrick Sivets making the score 2-0 as he poked home a loose puck in the low slot past Blazers goalie Cody Foster. That's how the 1st period would end with the Bulls outshooting Bellingham, 13-3.
The 2nd period didn't see any scoring, but Bulls goalies Matt Bartels and Jon Narverud both played well and held the fort for the Bulls, which they would do the entire game, making 24 saves in all for a combined shutout.
The 3rd period was all Bulls as they scored five goals. James Hughes made it 3-0 as he put home a one-timer from in front of the net after a nifty pass from behind the cage from Tim Santopoalo. Richie Marenis made it 4-0 with his first of two goals in the game after he got around the defense along the right wing and sizzled a wrister past Foster. Marenis would score again to make it 5-0 as he put home a loose puck on a wrap-around attempt from behind the net. The rout would continue as Kyle Krueger would score with an assist from Connor Langfield (his second of the game) to make it 6-0. Jake Johnson would round out the scoring as he tapped home a nice pass from James Hughes on a 2 on 1 to make the final, 7-0.
Head coach Todd Sanden had the following to say about the win. "I thought we got off to a great start scoring on the first shift. That gave us a lot of momentum in the 1st period. It took bit to regroup during the middle of the game, but we got it going in the 3rd period. We are just trying to care of business no matter who the opponent is."
Next Game - Saturday, April 6th @7PM vs. Twin Cities Northern Lights
Stay tuned to na3hl.com for all tournament and game updates as we follow the Bulls on the road to the National Championship.
Click here for the official USA Hockey website for the tournament
Watch all the Nationals games live on FASTHockey
Check out photos from the event here