Queen City Steam to become the Cincinnati Swords
April 16, 2013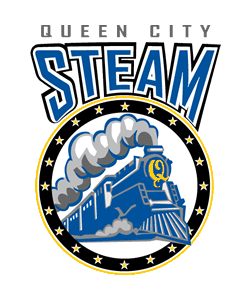 The Queen City Steam junior hockey club, proud members of the NA3HL, have announced that moving forward the team will be renamed and now known as the Cincinnati Swords, who will continue to compete in the NA3HL for the upcoming 2013-14 season. This past February, the two largest youth hockey organizations in Cincinnati agreed to merge to form one cohesive youth hockey program. This also includes the NA3HL's Cincinnati Swords, who will be under the new umbrella and will continue to strengthen ice hockey in Southern Ohio.
The Cincinnati Swords were formerly an extremely successful American Hockey League (AHL) team for the NHL's Buffalo Sabres. During the Swords existence the team made the playoffs each season and won the Calder Cup for the 1972-73 season. With the merger of two Cincinnati hockey organizations, the Swords name brings a tradition of success on and off the ice. The crossed swords symbolize the unification of hockey and our unending commitment to working with players to maximize their potential.
The Swords will continue to play their home games at Sports Plus in Cincinnati, Ohio. The players, ages 16-20, carry amateur status under USA Hockey junior guidelines and play in a structured development environment for student-athletes. The newly formed Cincinnati Swords will be led by returning head coach Lee Lansdowne and assistant coach Kyle Forte.