Bulls hire Bruneteau as next Head Coach
May 8, 2023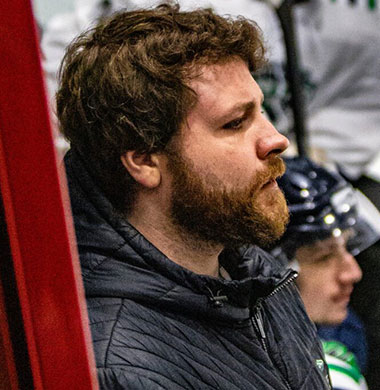 The North Iowa Bulls announce the hiring of Nick Bruneteau as the team's new head coach in the North American Hockey League (NAHL).
Bruneteau previiously served as the Head Coach of the affiliated sister team for the Bulls the Mason City Toros is in the NA3HL for the past two seasons, qualifying for the playoffs both
seasons. Bruneteau brings a wealth of experience and a winning pedigree to the Bulls,
having previously played professionally and coached at various levels of hockey.
"I am extremely thankful and humbled to have the opportunity to lead the North Iowa
Bulls next season. I'd like to thank F&S Management for not only this opportunity but
their continued commitment to hockey in Mason City. As a staff our goals will be
focused on player development, player advancement, and competing for a Robertson
Cup Championship. We will provide our players with every resource available to
develop their games individually and collectively," said Bruneteau.
Nick Fabrizio, who oversees the hockey operations and player personnel for all of F&S
Management teams said, "We are very pleased to have Nick as our head coach of the
Bulls. Nick has had success as a player and more recently as the head coach of the
Toros. We felt that he was the best person to lead the team and hope that he will take
us back to the point of being a championship-caliber team."
Bruneteau, a Omaha, Nebraska native came to the Mason City Toros and Bulls
organization. following a six-year professional playing career that included stops in the
United States as well as Norway, Germany and Italy. After playing for the Reading
Royals and Indy Fuel in the ECHL, he finished his pro career with five seasons in
Europe, winning a Norwegian championship with the Stavanger Oilers in 2016.
Bruneteau spent two years in the Alps Hockey League with Italy's SG Cortina club and
had signed to rejoin the ECHL as a player for the Kalamazoo Wings in 2020-21.
Bruneteau played four seasons of hockey at the famed Shattuck-St. Mary's prep school
in Faribault, Minnesota, serving as the Sabres' captain as a senior. Bruneteau went
directly to the University of Vermont, notching 58 points for the Catamounts in a four-
year collegiate career.
"We have the best fans in the league and our players must match their passion on the
ice. I am ready to work and look forward to the new season," concluded Bruneteau.