Friday Finals: Lumberjacks punch playoff ticket
February 9, 2019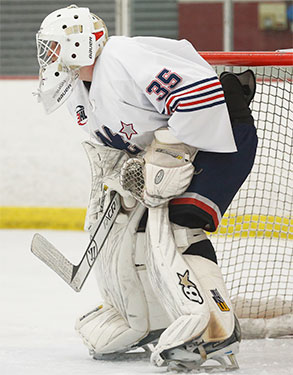 Granite City 5 @ Rochester 1 - The Lumberjacks raced out to a 3-0 lead and held off the Grizzlies for much of the night to take a 5-1 win on Friday. The win clinched the West Division's first playoff spot for Granite City. Brad Amundson scored twice, Matt Moran, Grant Troumbly and Ryan Pogue added a goal apiece and Matt Fitzgerald stopped 26 pucks in the win. For Rochester, Vladislav Sorokin scored once and Nick Bucklin turned aside 33 shots.
New England 2 @ L/A 0 - Matthew Marini shone brightest with a 37-save shutout as the Stars upset the Nordiques 2-0 on the road. James Wilson and Zachary Burnham scored the goals, as L/A's Daniel Miller saved 16 shots behind a stifled offense.
Niagara Falls 0 @ Oswego 7 - A 38-save shutout from Ben White and two goals by Elijah Morris guided the Stampede to a 7-0 win over the Powerhawks on Friday. Dylan Gulick, Nick Snyder, Rich Hart, Tommy Kilway and Joey Gallo also lit the lamp. Niagara Falls' Josh Mitchell played well with 49 saves between the pipes.
St. Louis 4 @ Coulee Region 5 (SO) - Toon De Schepper netted the shootout-deciding tally as the Chill stretched their win streak to nine straight games with a 5-4 victory over the Blues. Donny Schultz tallied twice during regulation time for Coulee Region, joining Thomas Magnavite and Gijs De Schepper with goals on the day. For St. Louis, Nathan Sargent led with two tallies and Zach Wilson and Tom Yurisich posted goals as well. Devin Naidow took the win with 30 stops, while Mikael Foucher turned aside 33 for the Blues. With the point in the shootout loss, the Jr. Blues clinched the Central Division's first playoff spot.
Skylands 3 @ Binghamton 10 - Mike Padgeon and Zach Bell netted twice apiece as the Senators breezed past the Kings 10-3. Also finding twine for Binghamton were Liam Murphy, Markus Cook, Greg Simmons, Thomas Liebold, Deviin Hamm and Adam Morgan. James Clarke, Jake Cicalese and Zach Burkhart provided the Skylands goals in front of a shared 45-save showing by Kavan Johnson and Josh Sears in goal. Jonathan Rapp took the win in the Senators' cage with 28 stops.
New Ulm 3 @ Alexandria 1 - Brett Meister put the Blizzard on the board first, but three unanswered from New Ulm led the Steel to a 3-1 win on the road. Jack Parks tallied twice and Carson Sandwick potted the clinching tally in New Ulm's win as Henry Baribeau stopped 37 shots. Kyle Hayden turned aside 24 of 27 for the Blizzard.
Louisiana 7 @ Mid Cities 3 - Drew Wotta and Viacheslav Nilov each bagged two goals to push the Drillers to a 7-3 win over division rival Mid Cities on Friday. Zach Smith, Tucker Alspaugh and Grant Griffin also found twine for Louisiana, as Kevin Lake stopped 26 shots for the win. Hunter Leonhard starred for Mid Cities with two goals, as Nick Solema potted another and Noah Kinsinger combined with Francisco Clark-Silva for 39 saves.
Milwaukee 6 @ Wausau 2 - A 5-0 run in the final 25 minutes saw the Power erase a 2-1 deficit and snatch a 6-2 road win over the Riverwolves to start the weekend. Ivan Bilyy scored twice to lead the onslaught, with Jake Bevin, Ryan Payne, Logan Geisness and Ethan Dabbs also lighting the lamp. Janne Rukamp and Tanner Eskro scored for Wausau early as netminder Alexandr Gilev put forth a titanic, 74-save effort in the loss. Aaron Dickstein took the win, though, with 41 saves for the Power.
North Iowa 7 @ Willmar 2 - Deadlocked at two with 22 minutes to play, North Iowa rattled off five straight markers to take a 7-2 victory over the Warhawks on Friday. Jimmy McDermott led with two goals as Peter Verstegen, Nick Johnson, Konnor Carlson, Jarod Blackowiak and Matt Rozman lit the lamp as well for the Bulls. Elijah Slagter and Marquez Ginger scored for Willmar as Jake Sumner and Lucas Ehrlich posted a shared 42 saves. Evan Babekuhl took the win for North Iowa with 42 saves of his own.
College Station 1 @ Atlanta 5 - The Capitals rode goals from five different scorers to a 5-1 win over College Station at home on Friday. Brett Dougherty, Jason Ladzinski, Andrei Rusakov, Keith Gustin and Vito Carlo provided the offense, eclipsing Matt McBride's lone goal for the Spirit. Quinn Yeager's 16 saves sealed the win, outmatching CJ Boothe's 43 stops in the College Station cage.
Missoula 3 @ Gillette 1 - Vadim Zubkov scored twice and Evan Williams stopped 50 of 51 shots to carry the Bruins to a 3-1 win over the Wild in Gillette. Christian Ward also nabbed a goal for Missoula while Tristan Avoletta bagged the Wild's lone goal. Cody Grogan stopped 19 of 22 shots for the hosts in the loss.
Evansville 3 @ Wisconsin 9 - Justin Schwartzmiller, James Lowry and Jeff Bishop struck for two goals apiece as the Whalers romped past the Thunderbolts 9-3 on Friday. Caleb Harris stopped 12 shots in the win as Adam Varga, Tanner Mros and Luke Hefty scored as well. For Evansville, Chase Avend-Farrell, Matthew Jordan and Sam Matus lit the lamp in front of a combined 76 saves by Noah Brandau and Stephen Friedland.
Great Falls 5 @ Bozeman 0 - Drew Scites bagged a 20-save shutout behind two-goal showings by blueliners Trent Cowden and Nate Simpson as the Americans blitzed the Icedogs in a 5-0 win on the road. Jens Juliussen also found twine for Great Falls, while Mikael Levokari did all he could in the Bozeman net with 44 saves on 49 shots.
Helena 7 @ Yellowstone 1 - A five-goal second period jump-started the Bighorns to a 7-1 road win over the Quake on Friday. Porter Tirrill's two goals led the way, as Nicholas Noel, Ty Niskanen, Hunter Pierce, Nicholas Cenis and William Wallace scored as well for Helena. Carver Thompson took the win with eight saves, conceding only to Jack Harris of Yellowstone. Michael Allman suffered the loss in the Quake net despite 34 saves on the night.