Texas Brahmas crowned 2019 NA3HL Fraser Cup Champions
April 1, 2019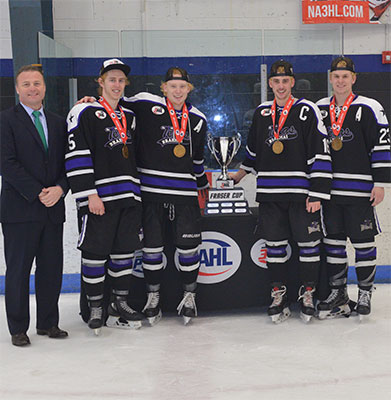 The Texas Brahmas not only won their first ever NA3HL Fraser Cup Championship on Sunday, but they also became the first South Division team to claim the NA3HL's ultimate crown by defeating the L/A Nordiques, 2-1 in the Fraser Cup National Championship Game at the Seven Bridges Ice Arena in Woodridge, Illinois. It completed a perfect 8-0 run through the Fraser Cup Playoffs for the Brahmas.
The 1st period was highlighted patented solid goaltending, which has been a staple for both teams in the event as Brahmas goalie Bryce Runyan and Nordiques goalie Andrew Ghimpeteanu both held the game scoreless thanks to some incredible saves in the opening 20 minutes.
In the 2nd period was virtually the game story as again both goalies shined, but the Brahmas would finally break through with under a minute remaining in the period as Parker Mara poked home a rebound after a shot from the point from Matej Palfy.
In the 3rd period, the Nordiques really turned up the heat and were denied on several chances, but finally broke through at the 12:48 mark as Alex Rivet through a puck to the low slot from behind the Brahmas net, which careened off of a Brahmas defenseman and in behind Runyan to tie the game at 1-1. With under four minutes remaining, the Brahmas regained their one-goal edge as a turnover as the Nordiques blueline led to a rush the other way by Michael Redmon, who fed linemate Findlay Wood, who then fired a shot to the far side of Ghimpeteanu for what would be the eventual game-winner. The Nordiques had a 6 on 4 advantage in the final moments of the game, but could not get another puck past Runyan as time ran out. Runyan made 32 saves in the win, while Ghimpeteanu made 23 saves in the loss.
Runyan, who allowed just three goals on 96 shots at the Fraser Cup, was named the tournament's Most Valubale Player, allowing just one goal in each of his three starts at the event.
NA3HL Fraser Cup All-Tournament Team
Forward: Michael Redmon, Texas Brahmas
Forward: Valeri Rykov, L/A Nordiques
Forward: Findlay Wood, Texas Brahmas
Defense: JP Chauvin, L/A Nordiques
Defense: Matej Palfy, Texas Brahmas
Goaltender: Bryce Runyan, Texas Brahmas
Most Valuable Player: Bryce Runyan, Texas Brahmas