October 4, 2019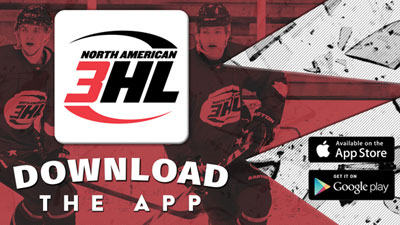 This weekend in the NA3HL extends into early next week as the new NA3HL East Showcase will begin on Saturday and run through Tuesday at the New England Sports Village in Attleboro, MA.
The NA3HL East Showcase, which is a new event to the 2019-20 calendar, will feature all of the NA3HL teams in the Coastal and Northeast Divisions, and also include the St. Louis Jr. Blues from the NA3HL's Central Division and the Atlanta Capitals and the Texas RoadRunners from the NA3HL's South Division.
For more details on the 2019 NA3HL East Showcase, including ticket, hotel, rental car, scouting and schedule information, visit:
na3hl.com/east-showcase
.
Follow the games on the NA3HL App:
Each NA3HL team playing in the East Showcase will appear in three games and is expected to attract dozens of college and junior scouts. Not only do NA3HL Showcases see a large presence of NCAA scouts, but NAHL Central Scouting will also in attendance, furthering the chances for players to earn a call up to the NAHL.
A total of 40+ NA3HL alumni began the 2019-20 regular season on NAHL rosters.
In addition to the NA3HL East Showcase, there will be a full slate of games in the Central, Frontier, and West Divisions this weekend.
FRI, OCTOBER 4
Coulee Region at Rochester - 7:00 PM CST
Wausau at Breezy Point - 7:30 PM CST
Maine at New England Knights - 8:30 PM EST
Willmar at North Iowa - 7:30 PM CST
Alexandria at Milwaukee - 8:00 PM CST
Bozeman at Helena - 7:05 PM MST
Gillette at Butte - 7:30 PM MST
Great Falls at Sheridan - 7:30 PM MST
Missoula at Yellowstone - 7:30 PM MST
SAT, OCTOBER 5
Texas Brahmas at Louisiana - 4:00 PM CST
New England Knights at St. Louis - 5:15 PM EST
Coulee Region at Rochester - 7:00 PM CST
Wausau at Breezy Point - 7:30 PM CST
New Ulm at Granite City - 7:30 PM CST
North Iowa at Willmar - 7:30 PM CST
Alexandria at Milwaukee - 8:00 PM CST
Great Falls at Sheridan - 7:00 PM MST
Helena at Bozeman - 7:30 PM MST
Gillette at Butte - 7:30 PM MST
Missoula at Yellowstone - 7:30 PM MST
SUN, OCTOBER 6
Elmira at New England Knights - 2:00 PM EST
L/A at Atlanta - 2:15 PM EST
Skylands at Texas RoadRunners - 4:00 PM EST
St. Louis at New England Stars - 4:15 PM EST
Texas Brahmas at Louisiana - 4:00 PM CST
Maine at Long Beach - 6:00 PM EST
Northeast at Danbury - 6:15 PM EST
MON, OCTOBER 7
Long Beach at Texas RoadRunners - 10:00 AM EST
Atlanta at Maine - 11:00 AM EST
Elmira at L/A - 1:00 PM EST
St. Louis at Northeast - 2:00 PM EST
New England Stars at Danbury - 4:00 PM EST
New England Knights at Skylands - 5:00 PM EST
TUE, OCTOBER 8
Atlanta at St. Louis - 9:00 AM EST
Texas RoadRunners at New England Knights - 10:00 AM EST
Elmira at Maine - 12:00 PM EST
Long Beach at New England Stars - 1:00 PM EST
Danbury at L/A - 3:00 PM EST
Skylands at Northeast - 4:00 PM EST